Hydraulic Horizontal Bandsaw meets high-production requirements.
Press Release Summary: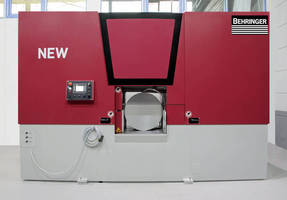 Compatible with all materials, including structural steels and high-tensile strength solids, HBE-663A has cutting capacity of 26.0 in. for round stock and 28.0 x 26.0 in. for flat stock. Speed range of 28 ft 8 in. x 2.0 in. x .063 in. saw blade is 33–360 sfm, and single-stroke feed length is 21.2 in. (Optional 118 in. feeding unit is available.) Along with inclined cast iron band wheels, features include automatic feed control, cast iron dual column construction, 2 linear ways, and 4 guides.
---
Original Press Release:

Behringer Expands Line of HBE Dynamic Series Horizontal Bandsaws with New HBE-663A.



Morgantown, PA U.S.A. – Behringer Saws, Inc., a manufacturer of high-quality bandsaw, circular and plate sawing solutions, announced today it has expanded its HBE Dynamic Series Automatic Horizontal Bandsaw line with the introduction of the new HBE-663A. The HBE-663A is a heavy-duty, high-production, hydraulic horizontal bandsaw that provides accurate, versatile and economical cutting in all materials, including structural steels and high-tensile strength solids. The HBE Dynamic series offers an array of leading-edge features designed to improve performance and precision while maximizing user convenience and safety, and is ideal for a wide range of applications from production cutting steel service centers to metalworking job shops.



The HBE-663A has a large cutting capacity of 26.0" for round stock and 28.0 "x 26.0" for flat stock. It utilizes a 28'8" x 2.0 x .063" saw blade with a standard speed range from 33 – 360 SFM.   The saw offers a single stroke feed length of 21.2" with an optional 3 meter (118") feeding unit available.



The HBE-663A's large diameter inclined cast iron band wheels decrease blade twist from wheel to guide, reducing bending fatigue in the saw blade, providing exceptional blade life. The saw also features induction hardened contact surfaces on its band wheels and all vice jaws, which reduces wear.



"The HBE Dynamic series has seen great success in the marketplace so far. We're pleased to offer the new HBE-663A which expands the cutting capacity of the line with the quality, performance and innovation of the HBE design," said Mr. Richard Klipp, President of Behringer Saws, Inc.



Among the innovative range of features on HBE Series saws is a ball screw servo-driven precision downfeed control that automatically adjusts blade pressure, creating an optimal balance of feed rate and cutting pressure for improved quality and cutting rates, while extending blade life.  The electrically-powered ball screw driven material feed gripper eliminates backlash and ensures precise material positioning for improved accuracy.



As with all Behringer bandsaws, the cast iron dual column construction of the HBE saw frame provides exceptional rigidity, eliminating stress, reducing vibration and enhancing blade life. Two linear ways and four guides facilitate precise and accurate vertical movement of the bow frame. Cutting accuracy is further enhanced by the horizontal band arrangement, hydraulically tensioned blade, and double roller pre-alignment bearings for the blade guiding.



HBE Series saws also feature automatic feed control (AFC). The Behringer AFC feature automatically adjusts cutting parameters including blade speed and downfeed rate, to the material grade and width. This permits operators to create flexible material programs leveraging cutting data based on specific material grade. Additionally, a fault/ alert history may be viewed at any time by the operator. The detailed information displayed in plain text is useful for both planning and analysis of past projects.



HBE saws utilize a high torque, state-of-the-art frequency-controlled blade drive which requires low power consumption, yet produces the blade power and speed needed for fast cutting and peak throughput rates. A fully enclosed design promotes safe operator use, keeps chip and coolant spillage to a minimum, and reduces noise. Large doors provide easy access for cleaning and maintenance.



Behringer Saws, Inc. provides a wide variety of world-class quality automatic bandsaws and high performance circular cold saws and plate saws to corporations, service centers, job shops and manufacturers throughout the world.



For more information on the Behringer HBE-663A Dynamic Series high-performance bandsaw, contact Behringer Saws, Inc., 721 Hemlock Road, Morgantown, PA 19543. Call toll-free at 888-234-7464 or visit www.behringersaws.com.

More from Machinery & Machining Tools