Hydraulic Gantry suits lifting and rigging applications.
Press Release Summary: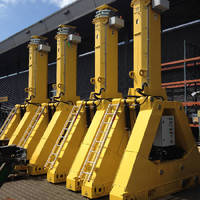 Equipped with 2 stage lifting cylinders, Model SBL900 lifts up to 37 ft and can handle up to 667 tons at top of second stage. Folding boom gantry features self-propelled drive system, self-contained hydraulics, and mechanical locking to hold load for extended periods. Users can operate lift locally at each leg or use Intellilift remote control. Wireless system ensures automatic synchronization of lifting with accuracy of 1 in. and automatic synchronization of travel with accuracy of 0.60 in.
---
Original Press Release:

Enerpac High-Capacity SBL900 Hydraulic Gantry Provides Superior Performance for Lifting and Rigging Applications



SBL900 Hydraulic Gantry



Menomonee Falls, WI—Building on the success of the SBL1100, Enerpac introduces the SBL900 hydraulic gantry, the company's newest folding boom hydraulic gantry. Equipped with two stage lifting cylinders, the SBL900 lifts up to 37 feet and can handle up to 667 tons at the top of the second stage.



Designed to meet stringent safety requirements, the SBL900 complies with the safety standards set by ASME B30.1-2015. To ensure quality performance, each gantry is tested to 120 percent of capacity at full extension and witness tested by a qualified third party organization. The SBL900 is also CE compliant.



"Providing a more advanced solution than standard lifting systems, the SBL900 hydraulic gantry offers unique features such as a wireless control system and integrated self-propelled drive system," said Peter Crisci, Enerpac. "These features, combined with safe, reliable performance, allow our customers to satisfy their complicated lifting applications."



The SBL900 offers superior features to enhance lifting performance, including:



Octagonal boom provides added strength for increased capacity and lifting height

Foldable boom enables easy transport and setup

Mechanical locking allows load holding for extended periods of time

Self-contained hydraulics enables easier setup and eliminates trip hazards associated with hydraulic hoses

Self-propelled tank rollers provide synchronized travel in a smooth continuous manner while ensuring optimum load distribution

The control system allows users to operate the lift locally at each leg or use the Intellilift remote control. The wireless system ensures automatic synchronization of lifting with accuracy of 1 inch and automatic synchronization of travel with accuracy of 0.60 inch. This ensures continuous control and monitoring of lifting and travel operations while providing complete visibility of the load.



For enhanced durability, the SBL900 offers a sturdy, proven base frame that can withstand a variety of environmental conditions. It can also be equipped with a powered side shift for easy operation.



For more information on the SBL900 hydraulic gantry, visit: enerpac.com.



About Enerpac

Enerpac is an international market leader in high-pressure hydraulics, with 28 offices in 22 different countries and over 1,000 employees. Enerpac produces thousands of high-pressure hydraulic products that are distributed worldwide. Enerpac focuses on the design of products, from the smallest cylinder to complete computer-operated lifting & positioning systems, which increase productivity and make work safer and easier to perform.



About Actuant

Enerpac is wholly owned by Actuant Corporation, a diversified industrial company serving customers from operations in more than 30 countries and is headquartered in Menomonee Falls, Wisconsin. Actuant trades on the NYSE under the symbol ATU. For further information on Actuant and its businesses, visit the Company's website at www.actuant.com.



Inquiries:

Europe, Middle East, Africa, India: Maarten Franken, Global Marketing Communications Leader maarten.franken@enerpac.com  Phone 31 318 53 5911  

North and South America: Roberta Moring, Marketing Communications Leader - Americas roberta.moring@enerpac.com  Phone 262-293-1655



More from Software