Hydraulic Fluid uses zinc-free, anti-wear technology.
Press Release Summary: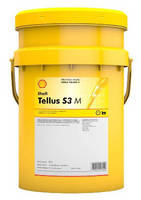 With zinc-free additive technology, Shell Tellus S3 M delivers wear protection in industry standard hydraulic pump tests. Product is available in ISO viscosity grades of 22, 32, 46, 68, and 100 and is engineered to work under demanding temperatures and operating conditions. With optimized air release and filterability, fluid allows for efficient hydraulic power transmission and eliminates low pressure loss. Low aquatic toxicity minimizes environmental impact in event of spill.
---
Original Press Release:

Shell Lubricants Offers New Zinc-Free Hydraulic Fluid



Reduced Environmental Impact, Long-Life and Improved Protection Provides Ideal Mix for Many Applications

Houston - Shell Lubricants is releasing its new Shell Tellus S3 M Hydraulic Fluid which uses a unique, advanced, zinc-free anti-wear technology to deliver up to twice the life of Shell's previous Zinc-free product, improved pump protection and system efficiency. The new hydraulic fluid is engineered to work under demanding temperature and operating conditions, and is ideal for most manufacturing applications including plastic injection molding and mobile equipment operations.

"Utilizing a combination of a unique additive package and high performance hydrotreated base oil technology, Shell Tellus S3 M is designed specifically to reduce maintenance costs and unplanned downtime and provide longer fluid life" said Felix Guerzoni, Shell Lubricants Product Application Specialist. "When tested in the industry-standard ASTM D943 TOST oil life test, Shell Tellus S3 M achieved up to five times longer oil life than the minimum standard hydraulic fluid of 1000 hours and up to twice that of the previous Shell Tellus S product which has been a product widely utilized throughout the industry for many years."

Shell Tellus S3 M provides three-way value delivery in the form of protection - to help prolong machine life and reduce unplanned shutdowns, oil life- to help reduce maintenance cost and increase machine availability and system efficiency - enhanced efficiency through responsiveness and precision of movement from start-up to peak operating temperature. Further gains can be achieved by moving to the Shell Tellus S4 ME product.

Shell Tellus S3 M is designed to help maximize productivity by ensuring equipment meets or exceeds its design capabilities. With improved air release and filterability characteristics (relative to the industry minimum requirements), the product allows for more efficient and precise hydraulic power transmission, eliminates low pressure loss and offers a more efficient operation.

The low aquatic toxicity of Shell Tellus S3 M reduces its environmental impact ion the event of a spill, and assists operators to better manage the environmental impact of their processes. Use of the Shell Tellus S3 M in equipment suffering from leaks or frequent hose bursts and loss of fluid, can be a proactive approach to minimizing zinc and other heavy metals entering the wastewater discharged from a manufacturing plant. For customers looking for additional environmental benefits, Shell offers the Shell Naturelle range of biodegradable hydraulic fluids.

With its advanced zinc-free additive technology, Shell Tellus S3 M delivers reliable wear protection in industry standard hydraulic pump tests with up to 76 percent less wear in Eaton and Denison specification pump tests, performing as well if not superior to existing Zinc-based hydraulic fluid products available in the marketplace.

Shell Tellus S3 M (available in ISO viscosity grades 22, 32, 46, 68 and 100) meets the requirements of a wide range of industry standards and is approved by many equipment manufacturers. The product is approved by Husky (ISO VG 46), and against MAG P-68 (ISO 32), MAG P-70 (ISO 46), MAG P-69 (ISO 68), Parker Hannifin HF-0, HF-1, HF-2 and Eaton 694 specifications. Further the oil meets ISO 11158 HM fluids, AFNOR NF-E 48-603, ASTM D6158 (HM mineral oils), DIN 51524-2 (HLP oils) and Swedish Standard SS 15 54 34 AM.

Shell Tellus S3 M is appropriate for use in factory-based industrial hydraulic applications, severe-duty, extended-operation applications, as well as mobile and outdoor applications in climates with limited variation in temperature.

For further information on the new Shell Lubricants line of Tellus products, customers can visit http://www.shell.us/lubricants.

About Shell Lubricants

The term 'Shell Lubricants' collectively refers to the companies of Royal Dutch Shell plc that are engaged in the lubricants business. Shell Lubricants companies lead the lubricants industry, supplying 13.4% of global lubricants volume.a The companies manufacture and blend products for use in consumer, heavy industrial and commercial transport applications. The Shell Lubricants portfolio of top-quality brands includes Pennzoil®, Quaker State®, FormulaShell®, Shell TELLUS®, Shell RIMULA®, Shell ROTELLA® T, Shell SPIRAX® and Jiffy Lube®.

aKline & Company, "Global Lubricants Industry 2009: Market Analysis and Assessment, 2009-2019."

More from Optics & Photonics