Hydraulic Fittings and Adapters have rust-resistant coating.
Press Release Summary: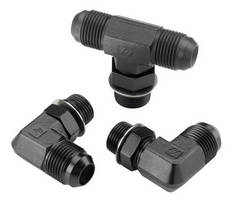 Hydraulic fittings and adapters feature Brennan Black® coating, a blend of fluoropolymer, engineered plastics, and corrosion inhibitors that enables properties such as low friction, strong adhesion, and resistance to wear and abrasion. In addition to corrosion, fitting and adapter coatings are resistant to chipping as well as weather, sunlight, and salt water. Products are also protected over temperature range of -420 to +500°F.
---
Original Press Release:

Brennan Industries Introduces New Brennan Black® Coating for the Most Advanced Protection Against Red Rust Corrosion



CLEVELAND - Brennan Industries Inc., a leading international supplier of hydraulic fittings and adapters, has introduced its new Brennan Black® coating, the most advanced protection against rust and corrosion.

This proprietary Bi-LENE® coating is a blend of fluoropolymer, engineered plastics and selected corrosion inhibitors that is tailored to provide specific properties for particular applications unlike conventional fluoropolymer coatings. The properties consist of low friction, strong adhesion, resistance to wear and abrasion, excellent resistant to corrosion, chipping and elements such as weather, sunlight and salt water. Field and lab tests show the coating resists corrosion past 1,600 hours of exposure making it at least 300 percent more resistant to corrosion than competitor's advanced plating. It works in a wide range of temperatures from negative 420 degrees Fahrenheit to 500 degrees Fahrenheit.

"The Brennan Black coating is the most advanced corrosion resistant coating available," said David M. Carr, president, Brennan Industries. "The Brennan Black coating offers the highest industry standard and is the answer for protecting systems and ensuring longevity in the most corrosive and harsh environments enabling customers to save money by protecting operations and reducing replacement costs."

The Brennan Black coating is best demonstrated on steel hydraulic adapters, where it provides unparalleled performance in resistance to corrosion. The Brennan Black coating is also available throughout five additional Brennan Industries product classes. Test results are available upon request.

About Brennan Industries

Supplying a wide range of industries throughout the world, Brennan Industries offers more than 25,000 standard and special hydraulic fittings and adapters in sizes ranging from 1/8 to 2-1/2 inches. These include a wide choice of fitting and adapter types such as tube, O-ring face seal, instrumentation, metric bite type, push-to-connect, conversion and flareless bite type. Brennan Industries also offers valves, clamps and swivels. Most products are available in carbon steel, stainless steel and brass, and meet or exceed J.I.C., S.A.E. and other specifications.

Brennan products are stocked at seven strategically located, full-service distribution centers in: Atlanta, Cleveland, Dallas, Los Angeles, Seattle, Toronto and Shanghai.

For more information, contact: Brennan Industries Inc., 6701 Cochran Road, Cleveland, OH 44139. Phone: (440) 248-1880. Toll-free: (888) 331-1523. Fax: (440) 248-7282. E-mail: sales@brennaninc.com. www.brennaninc.com.

Please send all inquiries to Bill Jarrell, Brennan Industries, 6701 Cochran Road, Solon, OH 44139.

Related