Hydraulic Excavators feature increased hp and operator comfort.
Press Release Summary: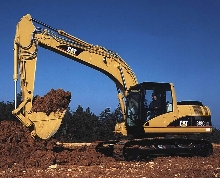 Models 318C L and 315C LN each produce net power of 125 hp (93 kW) using 6-cylinder, turbocharged Cat® 3055T diesel engine. LN version features transport width of 8 ft 6 in. when equipped with 20 or 24 in. shoes. L version has transport width of 9 ft 3 in. with 24 in. shoes. Both models use open-center, 2-pump hydraulic system with automatic boom and swing priority. Maximum digging depth is 20 ft 9 in., and maximum reach is 30 ft.
---
Original Press Release:
Caterpillar® 318C L and 318C LN Hydraulic Excavators Feature Increased Horsepower, Improved Controllability and Operator Comfort, and Longer Service Intervals

Caterpillar announces the 318C L and 318C LN Hydraulic Excavators. The new C-Series excavators offer improved performance through increased horsepower and hydraulic flow, greater drawbar pull and travel speed, enhanced controllability and a new cab and interior layout for optimum operator efficiency. Longer service intervals and easier maintenance boost availability and lower operating costs. The new models replace the 318B Land 318B LN.

The LN version has an innovative design that enables the machine to maintain high performance while having a transport width that does not require a permit in North America. Width is 8 feet 6 inches (2.59 meters) when equipped with 20- or 24-inch shoes (500- or 600-mm). The L version has a transport width of 9 feet 3 inches (2.82 meters) when equipped with 24-inch (600-mm) shoes.

The 318C L weighs about 42,500 pounds (19,300 kg), and the 315C LN weighs about 41,600 pounds (18,900 kg). Both new excavators produce net power of 125 horsepower (93 kW), nearly eight percent more net power than the previous models. The new excavators use the six-cylinder, turbocharged Cat® 3066T diesel engine. The engine has high displacement of 389 cubic inches (6.4 liters) and operates at a low speed of only 1,800 rpm. The result is excellent reliability and extended durability. Engine emissions meet worldwide requirements.

Each model uses the same efficient open-center, two-pump hydraulic system. The excavators have increased hydraulic flow of 27 percent when compared to the previous models. The hydraulic cross-sensing system further improves productivity with faster implement speeds and quicker, stronger pivot turns. Pump flow decreases when controls are in neutral for reduced fuel consumption and sound, and an auxiliary hydraulic valve is standard to make attachments easier to install.

Excavator hydraulics also feature automatic boom and swing priority. For simpler operation, work mode and power mode switches have been eliminated. Instead, the automatic boom and swing priority function selects the best mode based on joystick movement. The boom and stick regeneration circuit on each machine saves energy during boom-down and stick-in operation.

Several different front linkage configurations allow flexibility and versatility in a wide range of excavator applications. Maximum digging depth is 20 feet 9 inches (6.36 meters), and maximum reach is 30 feet (9.15 meters). All buckets now have lift eyes for lifting convenience.

The undercarriage features many improvements over the previous model. Track length has been increased 4 percent for greater stability and performance. Drawbar pull has been increased 11 percent for greater maneuverability. Top travel speed is up 17 percent to 3.4 mph (5.1 kph) for quicker movement around the job site.

Operator station increases efficiency and comfort

The C-Series excavators are designed for simple, comfortable operation. The cab itself is larger than the cab used in previous models, and it offers clear sight lines to the work area. The cab is quiet and features ergonomic control placement and convenient adjustments that allow the operator to fit the machine comfortably. Low lever and pedal effort, ergonomic seat design and highly efficient ventilation help reduce operator fatigue and improve operator efficiency throughout the shift.

The suspension seat is four-way adjustable and uses two different cushion densities to enhance operate comfort. The consoles have adjustable armrests for comfortable operation of the ergonomically designed joystick controls. Auxiliary hydraulics for the thumb circuit may be ordered with either pedal actuation or joystick button actuation Travel lever stroke and force have been changed to enhance fine controllability.

The new compact monitor enhances viewing from the operator seat and displays a variety of easy to read and understand information about machine functions. An optional auxiliary hydraulic configuration allows five hydraulic pump flows to be preset on the monitor so that flow does not have to be calibrated each time the operator changes tools.

The window glass is affixed directly to the cab, which eliminates window frames and increases the operator viewing area. A larger right-side window also improves viewing area, and the upper front windshield as well as the upper cab door window open for ventilation and communication with people outside. A large polycarbonate skylight allows natural light to enter the cab, and it opens for ventilation. The skylight also provides a view upward.

Extended service intervals, easy access

The 318C excavators have extended service and maintenance intervals to reduce machine service time and increase availability. Many daily maintenance areas have ground-level access.

The left rear service door allows easy access to the engine radiator and oil cooler. A reserve tank and drain cock are attached to the radiator for simplified maintenance. The
engine can be accessed from the upper structure or from under the machine. The oil cooler swings out horizontally for easy cleaning.

New grease-lubricated track promotes longer life for track link pins and bushings. The proven Caterpillar undercarriage design and structural manufacturing techniques assure durability in the toughest applications.

For more information, customers should contact their local Caterpillar dealer or visit the Cat web site at www.cat.com.

Basic Specifications for 318C and 318C LN



                                  318C L                  318C LN

Operating weight            42,500 lb (19,300 kg)   41,600 lb (18,900 kg)

Engine                      Cat 3066T               Cat 3066T

Net power                   125 hp (93 kW)          125 hp (93 kW)



Range of bucket capacities  0.52 to 1.77 cu yd      0.52 to 1.77 cu yd

                            (0.40 to 1.35 cu m)     0.40 to 1.35 cu m)



Transport width             9 ft 3 in. (2820 mm)    8 ft 6 in. (2590 mm)

Track length                13 ft 11 in. (4250 mm)  13 ft 11 in. (4250 mm)

Track gauge                 7 ft 3 in. (2200 mm)    6 ft 6 in. (1990 mm)

Max. drawbar pull           44,060 lb (196 kN)      44,060 lb (196 kN)

Travel speed                3.4 mph (5.1 kph)       3.4 mph (5.1 kph)

Max. digging depth          20 ft 9 in. (6330 mm)   20 ft 9 in. (6330 mm)

Max. reach at ground level  30 ft 0 in. (9140 mm)   0 ft 0 in. (9140 mm)


Related