Hydraulic Excavator suits space-restricted applications.
Press Release Summary: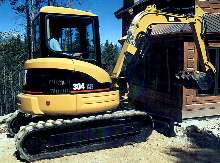 Model 304 CR (Compact Radius) mini hydraulic excavator weighs 9,896 lb with cab and delivers 36 net hp. Product accommodates two stick sizes for maximum digging depth of 12 ft 4 in. Offerings include naturally aspirated, water-cooled, 4-stroke, 4-cylinder diesel engine; travel speeds to 2.9 mph; travel system with straight-line travel function; and built-in balance valves. Variable-flow hydraulics provide balanced power and speed with bucket digging forces of 8,228 lbf.
---
Original Press Release:
New Caterpillar® 304 CR Mini Hydraulic Excavator Offers Productivity and Versatility in Confined Spaces

Caterpillar introduces a new Compact Radius mini hydraulic excavator, the 304 CR, designed for urban contractors and others who work in space-restricted applications. The new model is a high-performance machine, built to the same rigorous standards of larger Caterpillar excavators. The 304 CR is a reliable, versatile machine, designed to deliver exceptional performance and optimum productivity while offering compact dimensions, a comfortable work environment and a serviceable design.

The 304 CR weighs 9,896 pounds (4490 kilograms) with a cab and 9,786 pounds (4440 kilograms) with a canopy. It delivers 36 net horsepower (26.5 kW) and accommodates two stick sizes. When equipped with the optional long stick, the excavator has a maximum digging depth of 12 feet 4 inches (3.75 meters).

High-performance power train

A naturally aspirated, watercooled, four-stroke, four-cylinder diesel engine powers the 304 CR. The engine meets Tier 2 and Stage II emissions requirements and offers exceptional fuel efficiency, as well as low sound and vibration levels.

The transmission permits travel speeds of 2.9 miles per hour (4.6 kilometers per hour) at high speed and 1.6 miles per hour (2.6 kilometers per hour) at low speed. The travel system incorporates a straight-line travel function that improves controllability when the operator is tracking and using the front linkage or swing circuit simultaneously. Built-in balance valves prevent overspeeding during downhill travel.

Advanced, variable-flow hydraulics provide balanced power and speed with high bucket digging forces. A stick regeneration circuit and a boom confluence valve allow high-output excavating and loading. A boom drift reduction valve limits drift when material is suspended, improving safety and high-lift capacity.

Versatile by design

The mini excavator handles a wide range of tasks and can be equipped with a variety of Caterpillar buckets and work tools, including digging buckets, ditch cleaning buckets, hydraulic hammers, augers, shears and crushers. The line of work tools for the new model has been extended further with the introduction of vibratory compactor and hydraulic thumb and plate compactor options. A Caterpillar Quick Coupler makes work tool changes quick and easy. An auxiliary hydraulic valve is standard and allows easy field installation of work tools.

Comfortable work environment

The operator's station on the 304 CR is spacious and comfortable with the dimensions of a larger excavator. The optional cab features a sliding door for easy entry and exit when working in tight quarters. The viewing area from the cab is excellent in all directions, and tinted glass reduces glare and heat build-up. A fully adjustable, reclining suspension seat reduces fatigue. All controls are low-effort pilot hydraulic and ergonomically designed to enhance productivity. A standard control pattern changer allows for quick selection of backhoe or excavator controls. An optional air conditioner is also available for additional operator comfort.

Easy service

The 304 CR can be maintained and serviced quickly and easily, increasing uptime and reducing operating costs. A large-opening, tilt-up engine cover allows convenient, ground-level access to all maintenance checkpoints. Removable panels on the rear side of the engine further improve component accessibility. The front linkage and dozer blade have low-maintenance bushings, extending the grease intervals to 500 hours on all joints, except the bucket. Grease points are protected from damage and accessible from tie ground. Scheduled Oil Sampling valves are provided to reduce maintenance time.

The 304 CR is a versatile excavator that will work productively and economically in space-restricted applications. For more information, customers should contact their local Caterpillar dealer or visit the Cat® web site at www.cat.com.


Basic Specifications




Operating weight*               9,896 lb (4490 kg)

Engine                          4-cylinder diesel

Engine power (net)              36 hp (26.5 kW)

Tail swing radius               6 ft 6 in (1.98 m)

Transport width                 6 ft 6 in (1.98 m)

Maximum travel speed            2.9 mph (4.6 kph)

Bucket digging force            8,228 lbf (36.6 kN)

Standard stick digging force    5,373 lbf (23.9 kN)

Maximum digging depth           12 ft 4 in (3.75 m)

(long stick)




* Equipped with additional counterweight
More from Packaging Products & Equipment