Hydraulic Excavator has turbocharged diesel engine.
Press Release Summary: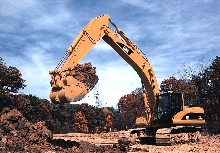 Model 330C L has increased horsepower and hydraulic flow, more stick force, and greater swing torque and drawbar pull than previous model. It is powered by Cat(R) C9 six-cylinder engine that has displacement of 537 cu in., produces 247 net hp, and meets EPA Tier II emissions standards. Cab and interior layout enhance operator efficiency. It weighs 77,400 lb, uses open-center two-pump negative flow hydraulic system, and generates stick digging force of 40,200 lb.
---
Original Press Release:
New Caterpillar(R) 330C L Hydraulic Excavator Offers Increased Productivity through a More Powerful and Efficient Engine, Easier Operation and More Work Tool Options
Caterpillar announces the 330C L Hydraulic Excavator. The new C-Series excavator offers improved productivity through increased horsepower and hydraulic flow, more stick force, and greater swing torque and drawbar pull. A new cab and interior layout enhance operator efficiency, and new work tool options expand versatility. Longer service intervals and easier maintenance boost availability and lower operating costs. The new model replaces the 330B L. The 330C L weighs about 77,400 pounds (35 100 kg) and is powered by the Cat(R) C9 engine, which is new to the excavator line. The six-cylinder, turbocharged diesel engine has displacement of 537 cubic inches (8.8 liters) and produces 247 net horsepower (184 kW), about 11 percent more net power than the previous model. The C9 engine features electronic control and the Cat HEUI(TM) fuel system for responsive and fuel-efficient operation. The engine meets EPA Tier II emissions standards. The 330C L uses the proven open-center, two-pump, negative flow hydraulic system. Increased engine power allows increased hydraulic flow of 17 percent when compared to the previous model. Increased flow works with the hydraulic cross-sensing system to boost productivity through faster implement speeds and quicker, stronger pivot turns. Stick digging force has been increased for increased productivity in excavating tasks. With a mass excavator boom, the 330C L generates stick digging force of 40,200 pounds (179 kN), about 4 percent more than the previous model. Swing torque is a powerful 79,657 lb-ft (108 kN.m). The 330C L has 2 percent more swing torque than the previous model for faster cycle times. Swing speed has increased from 9 rpm to 10 rpm. Fine swing control cushions swing start and stop for better implement control. For improved maneuverability, the new excavator has about 10 percent greater drawbar pull than the previous model. The hydrostatic drive produces drawbar pull of 66,094 pounds (294 kN). The redesigned cab layout emphasizes simplicity and ease of use to sustain operator efficiency for an entire shift. Fully automatic climate control adjusts temperature and ventilation flow without requiring frequent operator input. Caterpillar now offers an expanded line of work tools to optimize the 330C L for the job. Two different quick coupler options, the Pin Grabber Plus and the Dedicated Quick Coupler, enable the operator to quickly change work tools in the field. Factory installed hammer and thumb hydraulic circuits as well as a Tool Control System are available and enable easy use of a wide variety of specialized tools. A range of different buckets also expands excavator versatility. More powerful and efficient engine and hydraulics The Cat C9 engine with hydraulically actuated electronically controlled unit injection (HEUI) fuel system is built for power, reliability, economy and low emissions. The C9 features an electronic control module that enables the engine to respond quickly and to maintain efficiency when operating conditions change. The engine has automatic speed control. The two-stage control reduces engine speed when power demand is low for improved fuel efficiency and reduced sound. The engine design and control system improve operator comfort by reducing noise and vibration. The powerful hydraulic system is designed for precise control. The system responds quickly and predictably to operator inputs. For simpler operation, work mode and power mode switches have been eliminated. Instead, the automatic boom and swing priority function selects the best mode based on joystick movement. The new excavator also features a boom and stick regeneration circuit to reduce cycle times and to save energy during boom-down and stick-in operation. Redesigned operator station enhances operation The 330C L is designed for straightforward, comfortable operation. The cab is quiet and features ergonomic control placement and convenient adjustments that allow the operator to fit the machine comfortably. Low lever and pedal effort, ergonomic seat design and highly efficient ventilation help reduce operator fatigue and improve operator efficiency throughout the shift. The consoles have adjustable armrests for comfortable operation of the ergonomically designed joystick controls. The right-hand wall and console allow easy access to all switches, dials and controls. The new compact monitor enhances viewing from the operator seat and displays a variety of easy to read and understand information about machine functions. With the optional Tool Control System, five different tool settings can be programmed into the monitor, and the appropriate program can be selected when the operator changes work tools. The system eliminates the need to calibrate the hydraulic system each time a work tool is changed. Versatility from new work tool options The 330C L is designed to be highly versatile. Factory installed hammer and thumb circuits are available as attachments, and the optional Tool Control System maximizes productivity in jobs requiring the use of different hydraulically powered tools. Caterpillar offers a wide range of proven work tools designed to work optimally with the 330C L. Such tools include hammers, shears, thumbs, rotators, grapples and crushers. Caterpillar also makes five types of buckets - general purpose, ditch cleaning, heavy-duty rock, heavy duty and power - for the 330C L. A variety of front-end configurations offer more ways to optimize the 330C L for the job. Both a reach boom and a mass excavation boom are available, and three different sticks are offered. Extended service intervals, easy access The 330C L has extended service and maintenance intervals to reduce machine service time and increase availability. Many daily maintenance areas are accessible from ground level. The 330C L uses a new track link. The track link is protected with grease lubricated seals, which deliver as much as 25 percent longer internal wear life by helping to keep dirt and debris from entering the pin and bushing joint. For more information, customers should contact their local Caterpillar dealer or visit the Cat web site at www.cat.com. Basic Specifications for 330C L Hydraulic Excavator Operating weight: 77,400 lb (35 100 kg)* Engine: Cat C9 with HEUI Fuel System Net power: 247 hp (184 kW) Range of bucket capacities: 1.00 to 3.00 cu yd(0.70 to 2.26 cu m) Transport width: 11 ft 3 in. (3440 mm)* Track length: 16 ft 6 in. (5020 mm) Track gauge: 8 ft 6 in. (2590 mm) Max. drawbar pull: 66,094 lb (294 kN) Swing torque: 79,659 lb ft (108 kN.m) Max. digging depth: 26 ft 7 in. (8.09 m) Max. reach at ground level: 38 ft 2 in. (11.64 m) Max. loading height: 25 ft 1 in. (7.64 m) *With 21 ft 4 in. (6.5 m) boom, 12 ft 10 in. (3.9 m) stick and 34 in. (830 mm) shoes, 1.88 cu yd (1.4 cu m) HDP bucket.
More from Electrical Equipment & Systems