Hydraulic Crimping Tools handle heavy-gauge connectors.
Press Release Summary: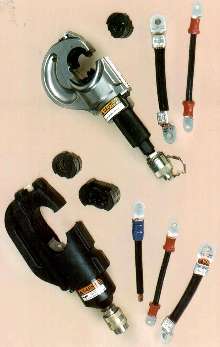 Powered by 10,000 psi electric pump or manually actuated pump, crimp tools consist of components necessary to crimp connectors from 8 AWG up to 4/0. Electronic control unit can be hand or foot operated. Products are available with 4 crimp heads: 12 ton with 1 in. stroke, 14 ton with 1.5 in. stroke, 12 ton titanium with 1 in. stroke, and SOLISTRAND terminal compression head. Tooling uses U-die design and accommodates several terminal styles.
---
Original Press Release:

Powerful Crimping Tools Handle Heavy-Gauge Connectors


HARRISBURG, Pa., July 29, 2003 - Tyco Electronics, a business segment of Tyco International Ltd., recently introduced a new line of hydraulic crimp tooling. The new line consists of those components necessary to crimp a wide range of connectors from 8AWG up to 4/0. The tools can be powered by a 10,000-psi electric pump or a manually actuated (hand or foot operated) pump and are connected to a control unit and crimp head. The electronic control unit can be hand or foot operated. Four crimp heads are available: 12 ton (1" stroke), 14 ton (1.5"), 12 ton titanium (1") and the SOLISTRAND terminal compression head.

The 1", 1.5" and SOLISTRAND connector crimping tools are also available in a hand tool version.

The hydraulic crimp tooling uses a U-die design and accommodates several popular terminal styles including SOLISTRAND and STRATO-THERM connectors, TERMINYL and PLASTI-GRIP connectors, AMPLI-BOND connectors and AMPOWER connectors. Additionally, the flexible design of the tool allows custom dies to be made for other connector styles.

These new tools are suitable for low to medium volume production and can be used for prototype work. Wire harness shops, aerospace/defense contractors, railway equipment manufacturers and other manufacturers who use large gauge terminals and connectors are candidates for this line of tooling.

For more information on hydraulic crimp tooling, contact Tyco Electronics' technical support center at 1-800-522-6752 or send e-mail to newproducts@tycoelectronics.com More information on the web at: www.tycoelectronics.com

ABOUT TYCO ELECTRONICS
Tyco Electronics is the world's largest passive electronic components manufacturer; a world leader in cutting-edge wireless, active fiber optic and complete power systems technologies; and is also rapidly developing extensive networking and building technology installation services. Tyco Electronics provides advanced technology products from over forty well-known and respected brands, including Agastat, Alcoswitch, AMP, AMP NETCONNECT, Buchanan, CII, CoEv, Critchley, Elcon, Elo TouchSystems, M/A-COM, Madison Cable, OEG, OneSource Building Technologies, Potter & Brumfield, Raychem, Schrack, Simel and TDI Batteries.

AMPLI-BOND, AMPOWER, PLASTI-GRIP, SOLISTRAND, TERMINYL and TYCO are trademarks.

More from Materials