Hydraulic Crimpers deliver 6 tons of crimping force.
Press Release Summary: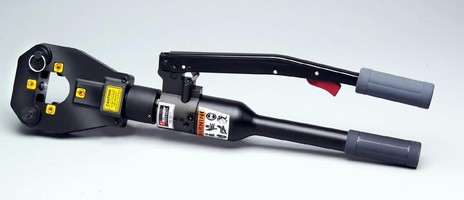 With flip-top style head, Models Y81KFT, Y81KFTMBH, and PATY81KFT-18V 4-POINT(TM) dieless hydraulic crimpers are suited for use on copper, aluminum, compressed, compact, stranded, solid, and flex conductors. Weighing 12 lb, hand-operated Model Y81KFT's head rotates 360º relative to handles, while remote-operated Model Y81KFTMBH functions on 10,000 psi hydraulic pressure. Featuring 360º head rotation, Model PAT81KFT is designed for use in any position.
---
Original Press Release:

FCI-BURNDY® Introduces Comprehensive Line of 4-Point(TM) Y81KFT Tools



FCI-BURNDY® Products, a leading connector manufacturer and provider of OEM solutions to the industrial, energy, and automotive industries, introduces its new line of 4-POINT(TM) tools. This new line of hydraulic crimping tools is ideally suited for use on copper, aluminum, compressed, compact, stranded, solid, and flex conductors.

The Y81KFT, Y81KFTMBH and PATY81KFT-18V 4-POINT(TM) tools are dieless hydraulic crimpers that incorporate a flip-top style head and provide easy tool removal from continuous conductor runs while eliminating the need to purchase and maintain dies.

Delivering 6 tons of crimping force, yet weighing just 12 pounds, the ergonomically sound hand-operated Y81KFT delivers incredibly easy termination and splicing. Also, the Y81KFT's head rotates 360º relative to the handles and is mated to a patented rapid advance pump.

The remote-operated Y81KFTMBH functions on 10,000 psi hydraulic pressure, delivering six tons of crimping force for incredibly easy termination and splicing. Other advanced features include an audible pressure "pop-off" valve and die embossment, providing 360º inspectability, and Parker type quick connect couplers to ease installation time.

The PAT81KFT-18V is compact, fast, and easy to use and provides a powerful six tons of crimping force. Featuring 360º head rotation, the PAT81KFT is designed for easy use in virtually any position. The ergonomic design allows for one hand operation, leaving the other hand free to position the connectors and conductors for crimping.

About FCI
With operations in 30 countries and sales of 1.28 billion euros in 2005, FCI is a leading manufacturer of connectors. Our 13,500 employees are committed to providing customers with high-quality, innovative products for a wide range of consumer and industrial applications.

For more information: www.fciconnect.com

More from Services