Hydraulic Axle Guide Bearing helps keep trains on track.
Press Release Summary: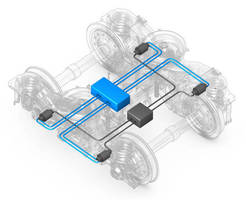 Receiving its control information from cameras, path sensors, GPS data, and programmed maps or from built-in sensors for power control, active hydraulic axle guide bearing HALL 2.0 enables railed vehicle axles to corner independently to predetermined degree and allow bearings to change in response to external pressure. In addition to helping trains handle curves better, this actively controllable component reduces wheel and rail wear as well as noise and energy consumption.
---
Original Press Release:

Freudenberg Schwab Vibration Control Presents New Active Hydraulic Axle Guide Bearing HALL 2.0 at InnoTrans



New bearing revolutionary; actively controllable



PLYMOUTH, Mich. – Freudenberg Schwab Vibration Control is introducing a world-first for railed vehicles at the International Trade Fair for Transport Technology (InnoTrans) starting Sept. 23 in Berlin. The specialist in vibration control technology is bringing out a revolutionary, actively controllable component: the active hydraulic axle guide bearing HALL 2.0.



The active HALL 2.0 receives its control information either from cameras, path sensors, GPS data and programmed maps or from built-in sensors for power control. With the help of the signals, the axles corner independently to a predetermined degree and allow the bearings to change in response to external pressure. The result is less wear on the wheels and rails as well as less noise and energy use.



With HALL, trains are now better at handling curves. Conventional axle bearings in the bogie of the train provide a marginal compromise between the flexibility needed for the bogie to respond to curves and the rigidity it needs to handle straight tracks at high speeds. At faster travel on straight-aways, the axle must be tough – otherwise the vehicle begins to roll and can, in the worst case, jump off the rails.



This is where HALL starts: The bearing changes its rigidity passively and automatically at specified stresses, which is especially important for regional railways. This offers many advantages. Wheels suffer less abrasion and can hold up longer. The train needs a complete wheel overhaul in the railyard less frequently. Up to 60 percent less friction on curves reduces the train's frictional resistance. The railcar needs less power, and thus less energy. As a result, it is more economical, fuel-efficient and environmentally friendly in its travels. Rail wear, which has led to devastating accidents, is also reduced.



For several years, Freudenberg has already been successful in the railway market with this passive system. Well-known operators confirm that wheel and rail wear is greatly reduced. In addition to trains and rail cars, the bearing is suited to many other industrial vehicles such as agricultural equipment and excavators. Wherever bearings are exposed to shocks and absorb a great deal of energy.



Now Freudenberg Schwab Vibration Control is going a step further. With active HALL's advances, the axle guide bearing can now be optimally adjusted to the route. Using internal sensors, this active technology can minimize the frictional forces on the wheels or be controlled through the use of route data. With GPS, programmed maps or cameras at the front of the train, the course of the route is evaluated in advance. This is ideal for the fixed routes that rail vehicles use. The information is processed in a control unit that adjusts the bearing to the route using a hydraulic system. As a result, the wheel is already at the correct angle for the next curve, and grinds less against the rail. In this way, trains run more economically and much more quietly.



The system also ensures better wheel adjustments on the very narrow curves that streetcars and subways negotiate. The new active axle guide bearing HALL fits without difficulty into the existing installation spaces of conventional systems.



For more information, see our specialists at the Freudenberg Schwab Vibration Control and Freudenberg-NOK Sealing Technologies stand, September 23-26, 2014, at InnoTrans in Berlin (Hall 9, Stand 705).



Media Contacts:

Cheryl Eberwein, Director, Media Relations

Office: +1 734 354 7373

Cell: +1 248 767 1068

E-Mail: cheryl.eberwein@fnst.com



Kevin Soisson, Communications Specialist

Office: +1 734 354 5328

E-Mail: kevin.soisson@fnst.com



Leslie Dagg / Adriana Van Duyn, Bianchi PR

Office: +1 248 269 1122

E-Mail: ldagg@bianchipr.com / avanduyn@bianchipr.com



About Freudenberg-NOK Sealing Technologies

Freudenberg-NOK Sealing Technologies is the Americas joint venture between Freudenberg and Co. in Germany and NOK Corp. in Japan. Freudenberg-NOK is a leading producer of advanced sealing technologies for a variety of markets including: aerospace; agriculture; appliance; automotive; construction; diesel engine; energy; food and beverage; heavy industry; and pharmaceutical. Founded in 1989 under the legal name Freudenberg-NOK General Partnership, Freudenberg-NOK is headquartered in Plymouth, Mich. and operates more than 20 facilities across the Americas. For additional information, please visit www.fnst.com.



In addition, Freudenberg Schwab Vibration Control, Dichtomatik and Corteco fall under the Freudenberg Sealing Technologies umbrella. Freudenberg Schwab Vibration Control is a leading supplier of technology for vibration control components, wind energy solutions, agricultural and construction machinery and other industries. Dichtomatik is Freudenberg's sales organization in the market for technical seals. Corteco is the Freudenberg Group specialist for the Independent Automotive Aftermarket specializing in spare parts for seals and vibration control as well as service parts such as cabin air filters.

More from Electrical Equipment & Systems