Hybrid Void-Fill System creates multiple pillow patterns.
Press Release Summary: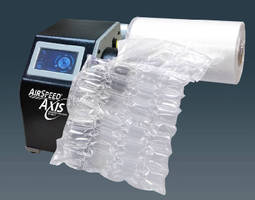 Using line of AirSpeed® HLX™ hybrid low-density polyethylene void-fill pillows, AirSpeed® Axis™ Machine can produce several different inflatable pillow patterns to accommodate most void-fill and wrapping requirements. Film pattern types include: HLX Trio with 3 cushions per row for smaller voids; HLX Small Cradle with quilted design that cradles product; HLX Large Cradle with quilted design for bigger items; and HLX High Yield with 2 larger connected pillows to fill bigger void spaces.
---
Original Press Release:

New Protective Packaging Hybrid Void-fill System from Pregis Creates Multiple Pillow Patterns from One Machine



Deerfield, Ill. — Companies whose products require protective wrapping and void-fill packaging now will be able to create multiple types from one machine.



New, proprietary technology from Pregis Corp. is capable of producing several different inflatable pillow patterns on one machine to accommodate most any void-fill and wrapping requirements. The expanded capability is made possible via the company's new AirSpeed® Axis™ machine  coupled with its new line of AirSpeed® HLX™ hybrid low-density polyethylene void-fill pillows.



The "multiple types" approach is not only ideal for traditional void-fill applications but also addresses dimensional-weight pricing, which will be implemented in 2015 by FedEx and UPS.  Under the new billing structure, the shipping price will be based on the amount of space a package occupies in relation to its actual weight. 



"With several factors in play, including environmental considerations and shipping costs, companies have been working on reducing void space in their shipping containers.  Because our inflatable pillow patterns feature channels which enable them to bend and/or curve around products or edges, they can be a major asset in accommodating these smaller void-fill spaces," said Dache Davidson, vice president of marketing, Pregis.



The four film pattern types produced on the AirSpeed® Axis™ system are:

• HLX Trio—with three cushions per row, this pattern is ideal for smaller voids.

• HLX Small Cradle—smaller, quilted design cradles the product forming a protective cushion.

• HLX Large Cradle—larger, quilted design provides cradling for bigger items.

• HLX High Yield—two, larger connected pillows offer higher roll yield to fill bigger void spaces. Great option for top filling a box.



The system is ideal for high-volume distribution center operations and other locations that package products with varying height /weight profiles. Users can easily switch from one pillow pattern to another with a quick roll changeover.



Another advantage to the system's flexibility is that users only need to be trained on one machine instead of multiple systems.  When used across multiple lines, the maintenance process is also simplified.



"This latest addition to the Pregis family of protective packaging solutions means that our large offering of inflatable applications has become even more robust.  Our objective has always been to develop optimum solutions that protect products as they travel through the logistics pipeline," Davidson said.



About Pregis

Pregis Corporation is a leading provider of innovative protective packaging materials and systems. The company offers solutions for a wide variety of consumer and industrial market segments including food, beverage, healthcare, medical devices, agricultural, e-commerce, retail, automotive, furniture, electronics, construction and military/aerospace. For more information: www.pregis.com.

More from Communication Systems & Equipment