Hybrid Socket offers cycle life of 5,00,000 insertions.
Press Release Summary: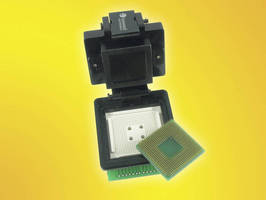 Thermal and functional hybrid socket has operating temperature range between -55°C to +150°C. Contactor is spring pin with 27 g actuation force/ball and cycle life of 500,000 insertions. Self inductance of contactor is 1.1 nH with 50 W matched impedance, and current capacity of each contactor is 5 A. Specific configuration of package to be tested in SS-PGA27/602A-01 is Kyocera's PB602AUE63-1 and other PGA ICs that are 35 x 35 mm body size, 1.27 mm pitch, 27 x 27 array.
---
Original Press Release:

Thermal and Functional Hybrid Socket for Kyocera's 602PGA



BURNSVILLE, MN - Ironwood Electronics has recently introduced the new high performance socket for the 602PGA- SS-PGA27/602A-01. The contactor is a spring pin (pogo) with 27 grams actuation force per ball and cycle life of 500,000 insertions. The self inductance of the contactor is 1.1nH with 50 ohm matched impedance. The current capacity of each contactor is 5 amps. Socket temperature range is -55C to +150C. The specific configuration of the package to be tested in the SS-PGA27/602A-01 is Kyocera's PB602AUE63-1 and other PGA ICs that are 35x35mm body size, 1.27mm pitch, 27x27 array. To use, drop IC in part, close clam shell lid, and apply down force using compression screw. The Socket is constructed of aluminum which provides heat sinking up to several watts and custom heat sinks can easily be designed for higher power dissipation. This socket can be used for functional test and extreme thermal cycling test with the most stringent requirements.

Pricing for the SS-PGA27/602A-01 is $7050 at qty 1 with reduced pricing available depending on quantity required.

Ila Pal

Vice President of Marketing

Ironwood Electronics

Phone: 800-404-0204

Email: ila@ironwoodelectronics.com
Skype: ila.pal
Twitter: http://twitter.com/ironwood_elect
Linkedin: http://www.linkedin.com/in/ilapal

More from Laboratory and Research Supplies and Equipment