Hybrid Scrap Drum Separator efficiently handles ferrous.
Press Release Summary: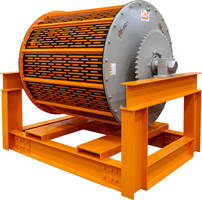 Offering edge-to-edge separation, electro-permanent EP-Rex(TM) Scrap Drum handles sphere-shaped ferrous (meatballs or knuckles) and delivers degree of strength that benefits scrap recycling operations. There is no transfer point drop in magnetic force, nor is there any decline in performance due to heat rise.
---
Original Press Release:

Eriez® Introduces New EP-Rex(TM) Hybrid Scrap Drum



Erie, PA-Eriez® introduces the EP-Rex(TM) Scrap Drum, a new, hybrid scrap drum offering many of the same benefits as the popular Eriez P-Rex® Scrap Drum at a lower cost.

The electro-permanent EP-Rex Scrap Drum offers greater strength than traditional electro-axial drums, bringing improved profits to scrap recycling operations. Large sphere-shaped ferrous, often referred to as meatballs or knuckles, are no match for the incredibly powerful EP-Rex Scrap Drum.

Much like the P-Rex, the EP-Rex offers advantages in critical performance areas: superior edge-to-edge separation, no 'transfer point' drop in magnetic force and no decline in performance due to heat rise. "Eriez is setting a new standard in scrap drums," says Darrell Milton, Market Manager-Metals Recycling. "Processors' profits are no longer limited by inferior metal recovery systems. Eriez drums provide better performance and payback than ever before thought possible."

Mike Ross, Manager-Magnet Development, explains that EP-Rex was invented based on customer need and current market conditions. He says, "P-Rex opened users' eyes to the realization that a stronger and consistent strength drum provides better recovery than the traditional electro-axial drums. Then, with the recent volatility in rare earth minerals pricing, our customers requested a stronger magnet that did not require rare earth magnets as an option. With a lot of research and the help of computer finite element analysis, robotics, numeric-controlled machines and laser-guided coil winding, EP-Rex was developed."

EP-Rex will be officially introduced at the ISRI 2012 Convention and Exhibition. For more information, contact Eriez.

Eriez is recognized as world authority in advanced technology for magnetic, vibratory and inspection applications. The company's magnetic lift and separation, metal detection, x-ray, materials feeding, screening, conveying and controlling equipment have application in the process, metalworking, packaging, recycling, mining, aggregate and textile industries. Eriez manufactures and markets these products through 12 international facilities located on six continents. For more information, call toll-free (888) 300-ERIEZ (3743) within the U.S. and Canada. For online users, visit www.eriez.com or send e-mail to eriez@eriez.com. Eriez World Headquarters is located at 2200 Asbury Road, Erie, PA 16506.

More from Services