Hybrid PPTC/MOV Device features resettable design.
Press Release Summary: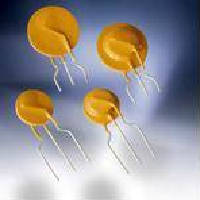 Combining resettable polymeric positive temperature coefficient device and thermally enhanced metal-oxide varistor into one package, 2Pro AC Device protects sensitive downstream electronics against damage from overcurrent and overvoltage events. Unit provides stability by maintaining varistor surface temperature of less than 150°C. RoHS-compliant and halogen-free, 2Pro AC Device is suitable for LED lighting, smart meters, appliances, and power supplies.
---
Original Press Release:
TE Connectivity's New 2Pro AC Devices Help Deliver Enhanced Protection in a Single Component
Hybrid PPTC/MOV devices offer benefits over discrete solutions

MENLO PARK, Calif. – TE Circuit Protection, a business unit of TE Connectivity Ltd. (NYSE: TEL), introduces the 2Pro AC device, an innovative hybrid device that offers designers an integrated, resettable approach to protect sensitive downstream electronics against damage from overcurrent and overvoltage events. This new device combines a PPTC (polymeric positive temperature coefficient) device and a thermally enhanced MOV (metal-oxide varistor) into one package. As a result, it provides higher reliability, reduced component count and a faster, simpler design process compared to other AC-line protection solutions typically used in low-current applications such as LED lighting, smart meters, appliances and power supplies.

By integrating a resettable PPTC device with an MOV, the innovative hybrid configuration of the 2Pro AC device offers benefits over typical approaches currently used in low-current applications to help prevent thermal runaway. These include using an MOV with a fuse, which must be replaced when blown; placing the PPTC device and MOV next to each other on the board, which can lead to thermal instability and design complexity; or employing a thermal fuse integrated with an MOV, which is a one-use solution that trips without allowing resettability. In contrast, the 2Pro AC device has thermally coupled components, is resettable, and provides stability by maintaining a varistor surface temperature of less than 150ºC.

"Popular energy-efficient applications, like LED lighting, are vulnerable to potentially damaging surges caused by 'dirty' power and lightning," said Weiqing Guo, TE Circuit Protection's Global Product Manager. "The 2Pro AC device responds to this challenge by offering a PPTC/MOV hybrid device that provides a more reliable, easy-to-use, space-saving protection solution over existing discrete approaches."

The 2Pro AC device can help manufacturers meet industry requirements, such as IEC61000-4-5 and IEC60950, and can help simplify UL60950 testing and compliance. It is also RoHS-compliant and halogen free.

For further information or technical assistance, call (800) 227-7040, or visit www.circuitprotection.com. To find a sales representative in your area, please go to: www.circuitprotection.com/contactus.asp.

Model(s): 
LVM2P-015R10431 : I hold = 150mA & 430V MOV
LVM2P-035R14431 : I hold = 350mA & 430V MOV
LVM2P-075R14431 : I hold = 750mA & 430V MOV

Price: Available upon request
Availability:  Samples available now
Delivery:  12 weeks ARO

ABOUT TE Connectivity
TE Connectivity (NYSE: TEL) is a global, $13.3 billion company that designs and manufactures nearly 500,000 products that connect and protect the flow of power and data inside the products that touch every aspect of our lives. Our nearly 100,000 employees partner with customers in virtually every industry—from consumer electronics, energy and healthcare, to automotive, aerospace and communication networks—enabling smarter, faster, better technologies to connect products to possibilities.

2Pro, TE Connectivity and TE connectivity (logo) are trademarks.

Contacts:
Product Communications
Weiqing Guo
Global Product Manager
TE Circuit Protection
wguo@te.com
(650) 361-4479

Media Communications
Hope-Sutton Salvador
Sr. Manager, Global Marketing and Communications
TE Circuit Protection
hope-sutton.salvador@te.com
(650) 361-2160
More from Electronic Components & Devices