Hybrid Power Connector combines 24 power- and 72 signal pins.
Press Release Summary: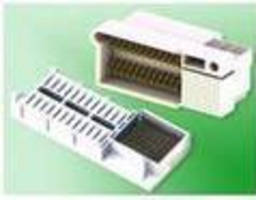 Provided as receptacle/plug for complex backplane connections, SUYIN-µTCA-power interface features 24 power pins specified to current rating of 9.3 A and 72 signal pins that are fully compliant with µTCA specifications. Receptacle and plug are designed for hot-plugging, enabling replacement of defective boards. Specified PCB hole diameter for press-fit contacts is 0.6 mm ±0.05 mm.
---
Original Press Release:

Hybrid Power Connector: 24 Power- and 72 Signal Pins Combined in One Component



Expanding its connector line to meet the requirements of the growing market for µTCA-applications SUYIN has introduced complex backplane connections for power and signal transfer from board-to-board.

The hybrid SUYIN-µTCA-power interface is being provided as receptacle/plug. The 24 power pins are specified to a current rating of 9.3A (nominal power handling according to IEC 60 512), the 72 signal pins are fully compliant with the µTCA-specifications. Receptacle and plug are designed for hot-plugging enabling the replacement of defective boards while processing as staggered contact lengths provide sequential mating. The press-fit contacts support a user-friendly and cost-saving assembly. Specified PCB hole diameter for the press-fit contacts is 0.6 mm +/-0.05 mm.

Specification:

connector type: µ-TCA Power Connector

pin number: 24 power contacts + 72 signal contacts

dimensions (L x W x H in mm, overall) receptacle : 63.15 x 25.34 x 17.0

plug: 63.50 x 32.35 x 26.0

More from Services