Hybrid Planetary Mixers handle high-viscosity applications.
Press Release Summary: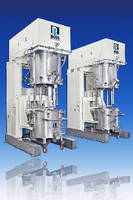 Operating over viscosity range up to several million centipoise, Planetary Dual Dispersers are comprised of 4 agitators - 2 planetary stirrers and 2 high-speed dispersers - all rotating on their own axes while orbiting mix vessel on common axis. Saw-tooth blades on each shaft provide intensive shearing action for rapid dispersion and particle size reduction. Planetary stirrers continually turnover batch material, feed fresh product to blades, and promote heat transfer throughout mixing zone.
---
Original Press Release:

Ross Offers New Hybrid Planetary Mixer Models



Hauppauge, NY, - Ross has expanded its line of Planetary Dual Dispersers (PDDM), offering more sizes of this powerful mixing system designed for high-viscosity and high-solids applications. These hybrid planetary mixers are comprised of four agitators - two planetary stirrers and two high speed dispersers - all rotating on their own axes while orbiting the mix vessel on a common axis. Pictured are two 200-gallon PPDM's which can also function as a classic Double Planetary Mixer as the dispersers are easily removable for extreme flexibility.

The saw-tooth blades on each high speed shaft provide an intensive shearing action ideal for rapid dispersion and particle size reduction. The planetary stirrers continually turnover batch material, feed fresh product to the high speed blades and promote heat transfer throughout the different areas of the mixing zone. The units shown include sidewall and bottom scrapers to further ensure superior uniformity of temperature and composition.

The PDDM offers precise control over shear levels and flow patterns because the agitators are independently driven and controlled. Compared to single-shaft dispersers and multi-shaft mixers consisting of agitators with a fixed axis of rotation, the PDDM operates over a wider viscosity range up to several million centipoise. Solids are quickly incorporated even into an already thick starting liquid and stubborn agglomerates are broken down effectively regardless of the product's flow characteristics.

For more information on the PDDM or to schedule a mixer demonstration utilizing your own raw materials at the fully-equipped Ross Test & Development Center, call 1-800-243-ROSS(7677) today.

Contact Info:

Chris Ross

Vice President, Sales

Charles Ross & Son Company

710 Old Willets Path

Hauppauge, NY

P: 1-800-243-ROSS

E: sales@mixers.com

W: www.mixers.com

More from Communication Systems & Equipment