Hybrid Linear Actuators include encoder feedback.
Press Release Summary: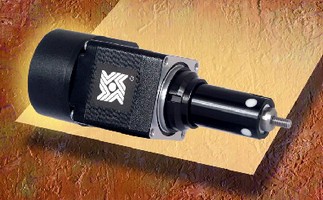 Delivering thrusts up to 25 lb, Size 11 Actuators are available in resolutions from 0.000125-0.002 in./step. Optical incremental encoder incorporates lensed LED light source and monolithic photodetector array with signal shaping electronics to produce 2 channel bounceless TTL outputs. Operating from -40 to +100°C, encoder offers resolutions from 200-1,024 cycles/rev or 800-4,096 pulses/rev. Actuators are suited for applications requiring precise positioning and rapid motion.
---
Original Press Release:

Size 11 Linear Actuators with Encoder Feedback



Waterbury, CT - Haydon Switch & Instrument, Inc. (Haydon) is proud to announce that their size 11 hybrid linear actuators are now available with encoder feedback. The compact optical incremental encoder design is available with two channel quadrature TTL squarewave outputs. An optional index (3rd channel) output is also available for many resolutions. The encoder is offered in resolutions ranging from 200 to 1,024 cycles per revolution (CPR) or 800 to 4,096 pulses per revolution (PPR). The encoder operating temperatures are -40° to +100°C.

Simplicity and low cost make the encoders ideal for both high and low volume motion control applications. The internal monolithic electronic module converts the real-time position, speed, and direction into TTL compatible outputs. The encoder module incorporates a lensed LED light source and monolithic photodetector array with signal shaping electronics to produce the two channel bounceless TTL outputs.

These hybrid linear actuators are available in a wide variety of resolutions ranging from 0.000125" (.003175 mm) per step to 0.002" (.0508 mm) per step and deliver thrusts of up to 25 lbs. without compromising long life and cost. Applications requiring precise positioning and rapid motion are best suited for this motor. Priced competitively, this product is ideal for drop-in replacements to improve performance and life or for incorporation into your next project. In addition to standard configurations, HSI can custom design this motor to meet your specific application requirements.

Established in 1950, Haydon is recognized worldwide as a leader for stepper motor based linear actuators, rotary motors, leadscrew assemblies, and sealed switches. The Company, headquartered in Waterbury, CT, develops, designs and manufacturers internationally patented products for the global marketplace. Haydon custom designs and manufacturers electric motors for medical equipment, instrumentation, industrial equipment, machinery automation, HVAC, office equipment, and many other custom applications. The unique designs provide precise, reliable motors with unmatched performance-to-size ratios. Motors are simple and versatile, making them well suited for customization and manufacturing.

For more information about Haydon products, contact:
www.hsi-inc.com
E-mail: info@hsi-inc.com

More from Optics & Photonics