Hybrid Excavator helps minimize greenhouse gas emissions.
Press Release Summary: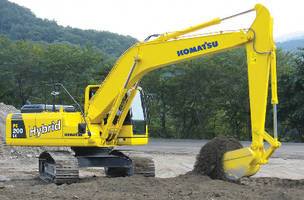 Powered by Komatsu Hybrid System, Hybrid PC200LC-8 uses electric swing motor, power generator motor, capacitor, and diesel engine to help minimize environmental impact. Turbocharged, air-to-air, after-cooled SAA4D107E-1 engine provides 138 hp. Featuring operating weight of 42,642-47,260 lb and bucket capacity of 0.66-1.57 yd³, excavator includes 7 in. LCD monitor for onboard diagnostics, and KOMTRAX® technology, which wirelessly sends machine operating information to secure website.
---
Original Press Release:

Komatsu America Corp. Introduces the Hybrid PC200LC-8 Excavator



Rolling Meadows, IL, November 5, 2009-Komatsu America Corp. today announces the introduction of the Hybrid PC200LC-8 excavator into the North American market. With the new Hybrid PC200LC-8, Komatsu has raised the industry bar for hybrid technology and fuel savings, by delivering a machine with power and efficiency, while reducing environmental impact as compared to our standard model.

Substantial "green" impact

As a one of the world's top construction equipment manufacturers, Komatsu's goal is to meet increasing global environmental concerns through the development of innovative equipment designed to reduce environmental impact, including CO2 reduction. By developing a successful hybrid excavator in the largest construction machine segment (20-22 ton), Komatsu's green technology will have a substantial impact on saving fuel and reducing green house emissions.

"Komatsu's decision to apply its engineering excellence to the largest construction machine segment, clearly signals our commitment to developing environment-friendly equipment", says Dave Grzelak, CEO and Chairman of Komatsu America Corp. "Since the company's inception, Komatsu has been setting the global standard for technology and engineering excellence and today that tradition continues with the introduction of the Hybrid PC200LC-8 excavator."

Cutting-edge technology

Powered by the Komatsu Hybrid System, the Hybrid PC200LC-8 uses a newly developed electric swing motor, power generator motor, capacitor and diesel engine. Komatsu developed its revolutionary hybrid system to work on the principle of swing energy regeneration and energy storage using the Komatsu Ultra Capacitor system. Komatsu's Ultra Capacitors provide fast energy storage and instantaneous power transmission.

The kinetic energy generated during the swing braking phase is converted to electricity which is sent through an inverter and then captured by the Ultra Capacitor. This captured energy is then discharged very quickly for upper structure rotation and to assist the engine as commanded by the hybrid controller when accelerating under work load conditions.

In tests comparing the standard PC200LC-8 hydraulic excavator to the Hybrid PC200LC-8, the hybrid model reduced fuel consumption by approximately 25-40%, depending on the application.

The specs

The Hybrid PC200LC-8 is powered by the powerful, turbocharged and air-to-air after-cooled Komatsu SAA4D107E-1 which provides138HP. With an operating weight of 43,643 to 47,260 pounds, the Hybrid PC200LC-8 has a bucket capacity of 0.66 - 1.57 yd3. The Hybrid PC200LC- has the same vigorous working forces and performance levels of the conventional PC200LC-8.

The innovative cab design assures operator comfort because the viscous cab damper mounts reduce vibration. A 7" LCD monitor provides easy-to-read gauges and onboard diagnostics as well as displaying the rear-view monitoring system for viewing the work area to rear of the machine.

KOMTRAX on board

The Hybrid PC200LC-8 is also equipped with the latest KOMTRAX® technology which sends machine operating information to a secure website utilizing wireless technology. Data such as operating hours, fuel consumption, machine location and machine utilization are relayed to the web application for analysis. The KOMTRAX fleet monitoring system increases machine availability, reduces the risk of machine theft and provides a wealth of other information to drive business efficiency.

Already an industry leader

The Hybrid PC200LC-8 excavator was introduced to the Japanese market in June 2008, and has been successful in reducing fuel consumption. In addition, Komatsu introduced the Hybrid to the Chinese market in August this year.

Komatsu has raised the industry bar for hybrid technology by offering outstanding efficiency, on a product with an already solid reputation.

Komatsu America Corp. is a U.S. subsidiary of Komatsu Ltd. which is the world's second largest manufacturer and supplier of construction, mining and compact construction equipment. Komatsu America also serves forklift and forestry markets. Through its distributor network, Komatsu offers a state-of-the-art parts and service program to support the equipment. Komatsu has proudly been providing high-quality reliable products for nearly a century. Visit the website at www.komatsuamerica.com for more information.

More from Materials