Hybrid Drying System dries granular or pelletized materials.
Press Release Summary: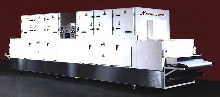 Macrowave OmniTherm Fluidic Dryer(TM) lowers moisture content of temperature sensitive materials to levels as low as 200 ppm without overheating surfaces of particles. It employs temperature and humidity controlled air or special gas to fluidize material being conveyed through radio frequency (RF) energy field. Suitable for continuous in-line operations, dryer can be used for drying, crystallization, and solid-stating of temperature sensitive polymers.
---
Original Press Release:

Conveyorized RF Drying System Rapidly Dries Granular or Pelletized Materials


A new hybrid drying system that lowers the moisture content of temperature sensitive materials to levels as low as 200 PPM, at the fastest rate possible, without overheating the surfaces of the particles is being introduced by Radio Frequency Co., Inc. of Millis, Massachusetts.

The Macrowave OmniTherm Fluidic Dryer(TM) employs temperature and humidity controlled air or special gas (where oxidation prevention is necessary) to fluidize granular or pelletized material being conveyed through a radio frequency (RF) energy field. Volumetrically heating the material using RF and uniformly removing moisture throughout, this hybrid conveyorized dryer also removes moisture from the particles' surface without overheating.

Suitable for continuous in-line operations, the Macrowave OmniTherm Fluidic Dryer(TM) eliminates the need for batch drying and replaces tumble-, spray-, tray-, spin flash-, and belt/tunnel dryers. Applications include drying, crystallization, and the solid-stating of temperature sensitive polymers.

The Macrowave OmniTherm Fluidic Dryer(TM) is priced from $300,000. up depending upon configuration. Evaluation of this drying process is available at the manufacturer's facility.

For more information contact:

Radio Frequency Co., Inc.
Tim Clark, VP Marketing
150 Dover Rd.
Millis, MA 02054
(508) 376-9555 FAX (508) 376-9944
e-mail: tclark@radiofrequency.com
www.radiofrequency.com

Venmark International
148 Linden Street, Suite 105, Welesey, Massadhuselts 02482 USA
(781) 237-5860 Fax (781) 237-5862 e-mail: venmark@msn.com

More from Electronic Components & Devices