Hybrid Cushioning System operates at speeds to 75 fpm.
Press Release Summary: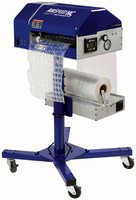 Suited for use in wrapping, large-volume cushioning, and blocking/bracing packaging applications, AirSpeed HC System enables operators to inflate cushioning pillows with transparent film that retains its shape when folded, wrapped, or otherwise manipulated. System operates from standard 110 V outlet, with no outside air source needed, and air pressure can be ajusted for standard and customized cushion heights. Pregis cushioning film loads at knee height for safe use.
---
Original Press Release:

New Pregis Airspeed HC System: Blazing Fast, Flexible and Intuitive



DEERFIELD, Ill. (April 30, 2007) - Pregis Corporation introduces the new AirSpeed HC System, the packaging industry's fastest and most material efficient hybrid cushioning system. With growing demand for flexible, cost-effective packaging, the AirSpeed HC is uniquely capable of meeting many diverse product protection needs.

"The AirSpeed HC System is truly a unique, value-driving innovation that meets the challenging environment in many packaging operations today," said Pregis VP of Product Development Tom Wetsch. "Customers today are looking for diverse product solutions that are suited for wrapping; large-volume cushioning; and blocking and bracing packaging applications. Our new system delivers on this need for a 'hybrid cushioning' solution."

Pregis' newest innovative system enables operators to inflate cushioning pillows, optimizing warehouse space that would otherwise be required for traditional materials. Operators can also easily adjust the air pressure as appropriate for standard and customized cushion heights.

Customers such as book publishers and computer component manufacturers will find the system perfect for their needs, as will the aerospace; automotive; cosmetics; electronics; glassware; party supply; giftware; pharmaceutical and medical; and dental industries.

The AirSpeed HC System is designed for use with Pregis' market-leading cushioning film. Sheets are perforated between cells every 12 inches for easy-to-tear, quick packing with no loss of cushioning. Operators can load the film at knee height for optimal and safe use.

At speeds of 75 feet per minute, the AirSpeed HC System is a fast, easy-to-use and flexible delivery machine that meets the most exacting performance requirements. Just plug the AirSpeed HC into a standard 110-volt outlet and it's ready to go: No outside air source is needed. Straightforward controls and simplified film loading mean operators can get up to speed quickly, saving training costs.

Durable and economical, the film retains its shape when folded, wrapped or otherwise manipulated. The transparent material is more appealing than solids such as foam-in-place, which can be unwieldy and messy. As an added benefit, AirSpeed HC film saves significant space. One pallet of the film can be converted into the equivalent protection of nearly 1½ truckloads of traditional bubble.

About Pregis Corporation

Pregis Corporation is a leading global provider of innovative, protective and flexible foodservice packaging and hospital supply products. The specialty packaging leader is based in Deerfield, Ill., and currently operates 39 facilities in 15 countries around the world. For more information about Pregis, visit the company's Web site, www.pregis.com.