Hybrid Cushioning System handles multiple roll widths.
Press Release Summary: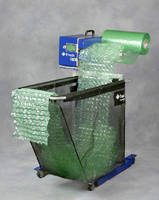 Suited for limited-space applications, Air Speed® HC Versa produces cushioning in 12, 18, and 24 in. widths and cell heights of ¾, 1, and 1¼ in. with perforation presets every 6 and 12 in. System accommodates virgin air cushioning material, recycled content, and material designed to accelerate microbial biodegradation, without compromising recyclability. Differing from void-fill pillows, hybrid cushioning has multiple air chambers in horizontal and vertical pattern instead of 1 large cell.
---
Original Press Release:

Pregis' New AirSpeed® HC Versa Hybrid Cushioning System Handles Multiple Roll Widths Via Smaller Dispenser Head



Deerfield, Ill., - Pregis Corp. is introducing a new hybrid cushioning (HC) system that can handle multiple roll widths (up to 32-inches) via a dispenser head that is 60% smaller than previous models. The new Air Speed® HC Versa has a reduced profile which enables the unit to be placed in locations where space is a premium.

The AirSpeed® HC Versa unit is the first to produce cushioning in three different widths: 24-inch wide cushions from 32-inch rolls, as well as 18- and 12-inch wide sizes. It can also produce three different cell heights: small (3/4-inch), medium (1-inch) and large (1 ¼-inches). Typical perforation preset is every 6- and 12-inches.

Pregis also is introducing HC-Flex(TM), a high performance low-density polyethylene air pillow film that is made with 30% less resin than competitive hybrid inflatable cushioning alternatives.

Hybrid cushioning differs from traditional void-fill pillows because it features multiple air chambers in a horizontal and vertical pattern vs. one large cell. Flat, perforated rollstock is mounted onto the AirSpeed unit, which creates the rows of small air-filled pockets as the air is transferred between the individual chambers. In previous units, the rollstock was mounted inside the dispenser head housing. The new, compact design positions the roll externally, creating placement flexibility.

"Not only have we been able to engineer a space-saving unit, but we have also added to its capabilities while still retaining industry-leading, 75 feet per minute speeds. The small size and speed is important for tight work spaces and high volume operations," explains Evan Everett, general manager, packaging systems, Pregis.

The HC Versa can accommodate traditional virgin air cushioning material, reduced gauge structures, recycled content or ones designed to accelerate microbial biodegradation, without compromising recyclability. Pregis full line of HC films can handle even the most demanding applications.

"The expanded film offering and ability of the HC Versa system to run all configurations enables us to provide a solution tailored to the customer application. The result is highly effective cushioning performance at a lower total cost compared to alternate materials.

The HC Versa also offers an improved user interface with simple touchpad start, stop and load functions. The simple-to-use operator panel makes it easy for new or seasonal employees to use," said Everett.

The AirSpeed line produces inflatable cushioning for void fill, containment, wrapping and packaging needs. Products of varying shapes and sizes receive optimal protection from shock, abrasion and vibration during transit. Markets include: aerospace, automotive, e-commerce, electronics, glass, cosmetics, fulfillment, housewares, medical/dental, pharmaceutical, industrial components, etc.

About Pregis:

Pregis Corporation is a leading global provider of innovative protective, flexible, and foodservice packaging and hospital supply products. The company offers packaging and product solutions for a wide variety of consumer and industrial market segments including food and foodservice, healthcare, agriculture, automotive, furniture, electronics, construction, fulfillment, catalog and military/aerospace. The specialty-packaging leader currently operates 47 facilities in 18 countries around the world. For more information about Pregis, visit www.pregis.com.