Hybrid Cushioning Dispenser addresses packing efficiency.
Press Release Summary: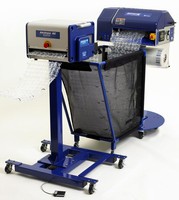 HC AutoFlow(TM) automatically separates, at 6 or 12 in. perforations, hybrid cushioning (HC) material created by AirSpeed® HC and places it into bin or directly into shipping carton. This eliminates need for operator to perform repetitive motion task while also accelerating packing speeds. Desired lengths are pre-calculated and programmed into unit, promoting efficiency and material cost management.
---
Original Press Release:

Pregis' HC AutoFlow Unit Takes Hybrid Cushioning Efficiency to a New Level



Deerfield, Ill., October 21, 2008-Pregis Corp. has taken high-speed hybrid cushioning "HC" to a new level with the launch of its HC AutoFlow(TM) unit. The new machine is an accessory to Pregis' previously-launched AirSpeed® HC system.

The HC AutoFlow is designed to automatically separate (at the perforation) the hybrid cushioning material created by the AirSpeed HC and place it into a bin (or directly into the shipping carton) for easy dispensing. This eliminates the need for an operator to perform a repetitive motion task. Further, the removal of the manual step assists in reaching higher targeted packing speeds.

"Another benefit is that material management and delivery is improved. The length of cushioning that is dispensed is no longer a random decision made by an operator. Desired lengths are pre-calculated and programmed into the unit. In addition to the efficiency and labor improvements, companies are better able to manage their material costs," explains Tom Wetsch, vice president, new product development, Pregis.

Hybrid cushioning differs from traditional void-fill pillows because it features multiple air chambers in a horizontal and vertical pattern vs. one cushion. Flat, perforated rollstock is mounted onto the AirSpeed unit, which creates the rows of small air-filled pockets as the air is transferred between the individual chambers. Three different cell heights are available: small (3/4-inch), medium (1-inch) and large (1 ¼-inches).

"The film is available in pre-perforated lengths at either 6- or 12-inch increments, depending on what the packager prefers. The HC AutoFlow has been engineered to automatically 'read' the perforation line, so it knows exactly where to tear the hybrid cushioning apart," Wetsch says.

The unit also provides an additional benefit compared to competitive systems which tend to cut through the pillow rows losing multiple chambers in the process.

"You can lose a significant amount of cushioning material if you continuously cut randomly through the cushioning. Our system is designed to only tear apart at the perforation, thereby losing none of the cushioning rows. This also has a positive impact on material conservation," Wetsch points out.

About Pregis:
Pregis Corporation is a leading global provider of innovative protective, flexible, and foodservice packaging and hospital supply products. The company offers packaging and product solutions for a wide variety of consumer and industrial market segments including food and foodservice, healthcare, agriculture, automotive, furniture, electronics, construction, fulfillment, catalog and military/aerospace. The specialty-packaging leader currently operates 47 facilities in 18 countries around the world. For more information about Pregis, visit www.pregis.com.

Please forward sales inquiries to:
Pregis Corp.
1650 Lake Cook Road, Ste. 400
Deerfield, IL 60015
Phone: (877) 692-6163
Email: protectivesales@pregis.com