HVOF Masking Tape withstands high temperature, pressure.
Press Release Summary: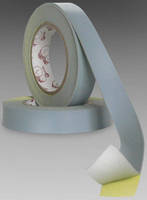 Resistant to extreme plasma spraying, pressure-sensitive D-Max masks products during hot, abrasive high velocity oxygen-fuel (HVOF) thermal spraying. This flexible and abrasion-resistant tape, exhibiting adhesion of 55 oz/in., conforms to irregular shapes to form protective mask against grit blast, ceramic spraying, plasma spraying, and arc spraying. Tested to temperatures over 1,000°F and forces greater than Mach II, product comes in widths from 0.25-24.0 in. in 18 yd lengths.
---
Original Press Release:

DeWAL Offers New HVOF Tape for High-Temperature, High-Pressure Thermal Spray



DeWAL pressure-sensitive HVOF tapes are being manufactured in response to a need for tapes resistant to extreme plasma spraying.

SAUNDERSTOWN, RI - DeWAL Industries, Inc. is manufacturing a new, one-step HVOF masking tape that masks products during extremely hot, highly abrasive high velocity oxygen-fuel (HVOF) thermal spraying.

DeWAL D-Max is a proprietary, pressure sensitive tape tested to temperatures over 1000°F (538°C) and forces greater than Mach II. The backing and construction are proprietary.

"We are calling this 'D-Max'," said Chris Brooks, DeWAL's Director of Sales and Marketing. "It offers Max protection, Max temperature resistance, Max adhesion, Max flexibility and Max value."

D-Max has a backing thickness of 0.028mils (0.635mm) and adhesion of 55 oz./inch

"Our new D-Max HVOF tapes perform where other thermal spray tapes fail," said David DiClemente, Global Business Manager for Pressure-Sensitive Tapes. "The DeWAL solution is a flexible, abrasion-resistant tape that adheres tightly and conforms to irregular shapes, even in highly volatile HVOF spraying environments."

DeWAL D-Max HVOF tape joins a large family of thermal spray tapes manufactured in DeWAL's Saunderstown, RI, facility. Free of carbonizing materials, these tapes form protective masks against grit blast, ceramic spraying, plasma spraying and arc spraying.

The DeWAL tapes are used by numerous prominent aircraft engine, automotive, medical and mission-critical manufacturers. DeWAL thermal spray tapes come in many constructions, both single and double-ply. They are sometimes die-cut. DeWAL tapes are sold worldwide.

D-Max is available in widths from 0.25 to 24.0 inches (6.35mm to 0.61m) in 18-yard (16.5m) lengths. The material is silver grey in color.

All DeWAL tapes are tested according to ASTM standards and meet RoHS criteria. DeWAL is ISO 9001:2000 registered.

About DeWAL

Since its founding in 1974, DeWAL Industries has become a leader in the manufacture of not only thermal spray tapes but in skived PTFE and UHMW-PE film. DeWAL manufactures pressure sensitive tapes from PTFE, UHMW-PE, Polyimide, and PTFE coated glass fabric. DeWAL also manufactures Poro-Tex and UniPore specialty films that provide unique combinations of porosity, chemical resistance and heat resistance for filtration and venting applications.