HVLS Fans target high-end commercial applications.
Press Release Summary: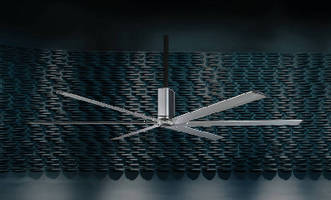 Manufactured in diameters from 8–20 ft with variety of custom colors, AirElite HVLS Fans combine ½ hp motor, onboard electronics, and fully integrated control system. Cohesive housing compartment powers 6 airfoil blades, which utilize NASA-engineered wing design. At 160 lb, fans offer low-profile installation for low ceiling heights, quiet operation, and ability to change perceptible room temperature by 5–15 degrees.
---
Original Press Release:

New Macroair HVLS Fan Balances Performance with Design



"AirElite" is Available Now for High-End, Commercial Application Needs



SAN BERNARDINO, Calif. – Offering a sleek, small package for design-conscious applications, fan manufacturer MacroAir – originators of HVLS technology – debuts its new "AirElite" fan to deliver highpower industrial performance with style.



The AirElite's powerful ½ horsepower motor, onboard electronics and fully integrated control system, are combined within a streamlined power unit and elegant frame. The cohesive housing compartment powers the fan's six airfoil blades, which utilize a NASA-engineered wing design, while also simplifying the installation process by removing the need for a separate motor control panel. MacroAir's patented 6ixBlade™ technology brings the fan to life.



At only 160 pounds, the fan's low profile installation is perfect for low ceiling heights, and its quiet operation allows the AirElite to be installed in applications without compromising design aesthetics or customer experience.



"AirElite harnesses high power with contemporary styling to seamlessly meet the look, feel and needs of applications where the atmosphere is as important as performance," said Eddie Boyd, president of MacroAir. "The integrated design of the AirElite maximizes air movement needs without disrupting the aesthetics around it, truly offering one of the best commercial HVLS packages on the market."



AirElite is manufactured in a range of diameters between 8 and 20 feet with a variety of custom colors.



MacroAir will introduce its newest fan to the public at the Air Conditioning, Heating & Refrigeration (AHR) Expo in Dallas, Jan. 28-30. The company will showcase how its commercial ceiling fans help companies in a variety of industries lower energy use, keep people or animals comfortable, and ultimately save money on HVAC costs.



MacroAir fans are also a proven solution for changing perceptible room temperature by 5 to 15 degrees, and lower heating and cooling costs by as much as 20 percent when used in conjunction with traditional HVAC equipment.



The company's products are covered by a 12-year limited warranty on all parts with the exception of the blades, hub and frame, which carry a lifetime warranty.



For more information on MacroAir, the high volume, low speed technology originators upon which the industry category was established, visit www.macroairfans.com.



About MacroAir

Since developing the first HVLS prototype in 1998, MacroAir continues to serve as an HVLS industry leader through its commitment to innovation and design of the most durable and cost-effective commercial ceiling fans on the market. As the "engineers of air,™" MacroAir produces energy-efficient, long-lasting HVLS fans that can be found in warehouses, manufacturing plants, airplane hangars, agricultural arenas and retail establishments across the U.S. and around the world, and are used by companies such as Coca-Cola, CSX Transportation and NAPA Auto Parts. The company is the exclusive HVLS fan supplier for independent auto dealerships of BMW, Chrysler, Ford, General Motors, Lexus, Mercedes-Benz, Nissan and Toyota under their Dealer Equipment Programs. To learn more about the HVLS industry and MacroAir's line of HVLS fans, visit www.macroairfans.com or call 866/668-3247. Find the company on Facebook, Twitter and YouTube, and engage with MacroAir experts via LinkedIn and Google+.

More from Packaging Products & Equipment