HVAC/R Acid Flush leaves no harmful residue.
Press Release Summary: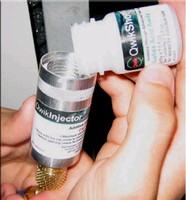 Injected into operating system, QwikShot® Acid Flush(TM) vaporizes with refrigerant, travels throughout system, chemically attaches to acid and/or moisture molecules, and flushes them to filter/drier. Product is compatible with all refrigerants/oils and is effective on acid that is attached to hard internal surfaces or trapped in system oil. One ½ oz bottle services up to 5 tons of refrigeration.
---
Original Press Release:

QwikShot® is HVAC/R Industry's First Acid Flush That Doesn't Leave a Harmful Residue



Mainstream Engineering, Rockledge. Fla., a leading manufacturer of HVAC/R aftermarket service/maintenance products, introduces QwikShot® Acid Flush(TM), the industry's only refrigeration system acid flush that doesn't leave residue or invalidate compressor warranties.

Unlike acid neutralizers that leave a salt-based residue from a chemical reaction and thus are not accepted by major compressor manufacturer warranties, QwikShot is injected into an operating system and vaporizes with the refrigerant. QwikShot immediately travels throughout the system and chemically attaches to acid and/or moisture molecules and flushes them to the filter/drier.

Originally developed for military and NASA refrigeration systems where compressor burnouts are not an option, QwikShot is compatible with all refrigerants/oils and is especially effective on acid that's attached to hard internal surfaces or trapped in system oil.

Mainstream Engineering recommends checking residual acid with QwikCheck(TM) within 24 hours. Remaining acid should be treated with another acid flush and filter-drier replacement.

QwikShot is packaged with a metal reusable QwikInjector(TM) for first-time users or sold in four-packs of ½-ounce bottles. One ½-ounce bottle services up to 5-tons of refrigeration. Unlike neutralizers, overdoses of QwikShot will not harm a system.

QwikShot is available at HVAC/R distributors nationwide listed at www.qwik.com.

About Mainstream Engineering: Mainstream Engineering is a research and development company that markets its new product discoveries to the HVAC/R field. Mainstream is currently designing a "Gravity Insensitive Heat Pump" for the thermal control system of NASA's future Lunar Outpost and the next-generation crew exploration vehicle-The Orion. Mainstream manufactured the first refrigeration compressor to fly in space on the International Space Station. For more information on Mainstream Engineering and its HVAC/R division products, please contact (321) 631-3550 or visit www.mainstream-engr.com

More from Packaging Products & Equipment