HVAC Brain Inc. Now Offers Entire Line of Wilo Pumps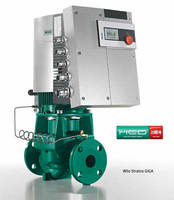 HVAC Brain, Inc. has added the complete line of Wilo pumps to their current online offering of HVAC/R products.



Cleveland, OH, - HVAC Brain, Inc., retailer of HVAC/R equipment and replacement parts, will now carry a complete selection of pumps and pump systems manufactured by Wilo. The addition of Wilo pumps will be the first major pump products line carried by HVAC Brain.



Wilo pump solutions carried by HVAC Brain include:



• Building solutions: Building solutions include circulators, sump pumps, and inline pumps. These pumps are suitable for heating and cooling applications including solar and geothermal systems, pressure boosting, water supply, and sump & sewage disposal.



To browse these products, visit http://www.hvacbrain.com/Wilo-Building-Pumps-and-Pump-Systems-s/4756.htm.



• Groundwater systems: Groundwater system solutions include submersible motors and pumps, well pumps, and pressure transducers. Applications for Wilo groundwater systems include wells, agriculture, dewatering, and industrial use.



To browse these products, visit http://www.hvacbrain.com/Wilo-Groundwater-Pumps-s/4790.htm.



Wilo is a leading system supplier of commercial and residential pumps. Offering high-tech solutions in the international pumps market, Wilo is known worldwide for setting industry benchmarks with their high-quality products. The company incorporates extensive research and development to facilitate the design and manufacture of complete pump systems and solutions. Their pumps and pump systems can be found around the world used in various applications, including HVAC, water supply, sweage disposal, and wastewater treatment.



HVAC Brain offers all Wilo pump solutions at competitive prices, with quick shipping and dedicated customer support.



Why shop at HVACbrain.com:



HVAC Brain, Inc. is a fast growing retailer of HVAC/R equipment and replacement parts. At HVACbrain.com, HVAC professionals and maintenance managers can find wide variety of 'hand-picked' high quality HVAC products such as A/C and refrigeration equipment, HVAC instruments and tools, replacement motors, compressors, fan blades, capacitors, etc. With HVAC Brain's tight vendor relationships, customers can choose and order products without worrying about the quality of products HVAC Brain offers.



Contact Info: HVAC Brain, Inc. 9545 Midwest Avenue, Unit A - Cleveland, Ohio 44125, 216-663-4822.

More from Mechanical Components and Assemblies