HVAC Air Duct is self-supporting.
Press Release Summary: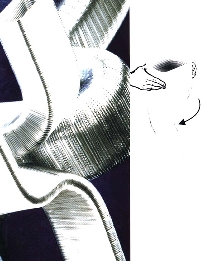 Corrugated Quadroflex(R) duct has interlocked seams that are folded flat and knurled for air-tightness, strength, and flexibility. Duct can be bent by hand in any direction or twisted 90 deg clockwise. It is available in round, rectangular, rectangular with curved sides, oval, and multiple-sided asymmetric shapes, in diameters from 3 to 10 in., and has operating temperature of 0-750 deg F. Duct ends can be formed to make transition connections to round ductwork.
---
Original Press Release:
Self-Supporting Air Duct Can be Produced in a Variety of Shapes

Quadroflex(R) duct is a corrugated, single-ply, multi-sided, flat duct with interlocked seams that are folded flat and knurled for air-tightness, strength and flexibility. It is primarily used in HVAC applications.

Quadroflex duct can be bent in any direction (longitudinally or laterally) and twisted 90 deg clockwise, by hand, by HVAC installers, greatly reducing installation time and expense.

Quadroflex duct comes in a variety of shapes: round, rectangular, rectangular with curved sides, oval, and multiple-sided (asymmetric) shapes. The numerous shapes allow for optimum utilization of space within installation shafts, while the inherent flexibility of the ducts permits installers to quickly route them as needed.

With any Quadroflex shape, the duct ends can be formed to make transition connections to round ductwork. No special tools are required for installation; the ducts can be easily cut-to-length at the jobsite.

Space-restricted applications and/or renovations can especially benefit from the duct's versatility and flexible routing.

Quadroflex duct has numerous HVAC applications, including the transport of gas-type mediums in AC systems.

Quadroflex duct comes in a range of diameters, from 3" to 10". It has an operating temperature range of 0deg to 750deg F, with a working pressure range of 10" of water positive or negative, and a burst pressure rating of 60" of water. Standard duct length is 10'.

Founded in 1964, Clevaflex currently has the largest production facility of its kind in North America for wound tubing, including both thermally-bonded tubing and mechanically-interlocked tubing. Clevaflex can vary the tube's corrugation and elongation to meet specific application requirements for strength, flexibility, and operating characteristics under positive or negative pressures. Clevaflex(R) tubing is used in HVAC, automotive, industrial, thermal insulation, and impact-absorption applications.

Clevaflex, 4081 West 150th Street, Cleveland, Ohio 44135 USA. Tel: 216-941-8742 Fax: 216-941-6505 Email: info@clevaflex.com Website: www.clevaflex.com

More from Packaging Products & Equipment