Husky Oil Refinery Installs another Air Clear System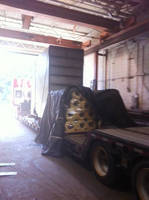 Air Clear manufacturer of industrial air pollution control equipment shipped another air pollution control system to Husky Oil Refinery in Alberta, Canada today! Husky presently has (4) four Air Clear air pollution control systems operating at their plant (an RTO w/prefilter and three (3) coalescing fiberbed filter systems.

The system Air Clear shipped today is a coalescing fiberbed filter system to control the emissions from their rail car loading process. The system is constructed of 3/16" 304L stainless steel constuction. The fiberbed diffusion filters are constructed of high efficiency fiberglass media, with the supporting assembly constructed of carbon steel. Air Clear's filter testing program ensures that Air-Clear systems perform as designed. Test conditions are much harsher than field conditions, making the test very discriminating. Our customers are welcome to witness this testing during the fabrication process.

More from Chemicals & Gases