Hurco Announces Higher Performance at No Extra Cost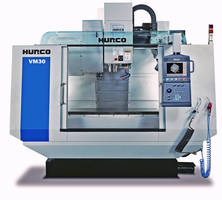 Hurco has launched a major upgrade of its best-selling, compact-footprint VM range of vertical machining centres. The improvements include adding around 50 mm to the Y and Z axes and providing a 10,000 rpm spindle as standard.

Designated VM10, VM20 and VM30, the new models also have a faster, electronic, 20-station swing-arm toolchanger to minimise non-cutting time and further improve productivity and reliability. Rapid traverses are now 24 m/min in all axes.

Dave Waghorn, managing director of Hurco Europe, said, "Despite the upgraded specification, the new machines are the same price as their predecessors.

"In addition we have frozen service charges for the past 24 months. We are trying to provide our customers with as much help as possible in the current economic climate".

Ahead of the launch of the new machines, Hurco had sold all of the remaining stock of the older models. Only a handful of VMX1 machines remains available at a discounted price.

Travels of the new machines are VM10: 660 x 406 x 508 mm, VM20: 1016 x 508 x 508 mm and VM30: 1270 x 508 x 508 mm. They translate into an increase in working envelope of around one quarter. It is claimed that these machines offer the best combination of minimum footprint and maximum capacity currently available on the market.

All Hurco machines are fitted with Hurco's proprietary WinMax control for simple conversational programming, ideal for one-offs and small volume production. The control has a powerful NC editor with macro capability plus a 40GB hard drive and 2GB RAM, all as standard features.

Hurco Europe Ltd,

Halifax Road, Cressex Business Park,

High Wycombe, Bucks, HP12 3SN.

Tel: 01494 442222.

Fax: 01494 443350.

E-mail: sales@hurco.co.uk

Web site: www.hurco.co.uk

Contact:

David Waghorn, Managing Director.

More from Agricultural & Farming Products