Huntingdon Introduces Argon Gas Feed Hose Assemblies with Leak Tight Fittings
Press Release Summary: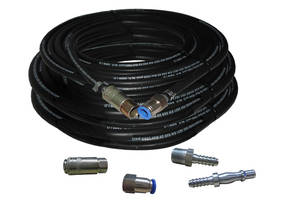 Argon Gas Feed Hose Assemblies enable non-contaminated feeding of argon gas into welding zone. Units are available off the shelf in lengths of 30 m, 25 m, 20 m, 15 m, 10 m and 5 m. Hoses can be operated in -30ºC-80ºC temperature range and feature safety factor of three times the working pressure (300 psi). Units are offered with argon regulator that connects to range of inflatable tube and pipe weld purging systems.
---
Original Press Release:
Special High Quality, Leak Tight Welding Hose for Argon Feed
Advancing forward in weld purging technology, Huntingdon Fusion Techniques HFT® now manufacture tailor made Argon Gas Feed Hose assemblies with leak tight fittings.
Luke Keane, Distributor Support for HFT® said: "It is important when welding stainless steels, titanium, zirconium and other reactive metals, that the welding zone is purged of oxygen, even down to as low as 20 parts per million (ppm). These special, high quality Argon Hoses, provide welders with a guaranteed leak tight method of feeding non-contaminated argon gas into their welding zone."
The natural rubber feed hose comes complete with an argon regulator, which directly connects to any range of Inflatable Tube and Pipe Weld Purging Systems at one end and to the gas source at the other.
These hose assemblies can also be used for transporting other gases where a guaranteed leak tight delivery is required.
A selection of leak tight adaptors is provided for attaching the argon gas regulator whilst the pre-fitted other end joins up with all HFT® Argweld® Weld Purging Systems. All of these high quality fittings will eliminate welding connection difficulties that welders might experience on site.
The Argon Gas Feed Hoses can also be supplied to all other TIG / GTAW welders with their own special fitting as required. The hoses are available off the shelf in a standard range of lengths, 30 m, 25 m, 20 m, 15 m, 10 m and 5 m.
Conforming to British Standard BS EWN 599 Quality Standard, the Argon Gas Feed Hoses each have a temperature range from -30º up to 80ºC and a safety factor of three times working pressure 20 bar (300 psi).
HFT® advises welders to only use top quality hose assemblies to feed argon gas for top quality welds!
Huntingdon Fusion Techniques HFT® has a worldwide Exclusive Distributor network. For your nearest Exclusive Distributor, please visit: www.huntingdonfusion.com.
For further information, please contact:
Michaela Reay, Marketing Associate
Huntingdon Fusion Techniques HFT®
Press: michaelareay@huntingdonfusion.com
Sales: support@huntingdonfusion.com
Huntingdon Fusion Techniques HFT® are Weld Purging Innovators, Designers and Manufacturers with offices located globally.
Huntingdon Fusion Techniques HFT® invented the 'Weld Purge Monitor®' in 1975 and own all international intellectual property rights and registered trademarks.
Weld purging is the act of removing, from the vicinity of the joint, oxygen, water vapour and any other gases or vapours that might be harmful to a welding joint. Such gases may combine with the metal to form undesirable compounds that may reduce corrosion resistance or may be instrumental in creating cracks or other structural defects in metals.
More from Architectural & Civil Engineering Products