Hunter Open House Featured New Maus Grinding Center and Programming Station for Metal Casters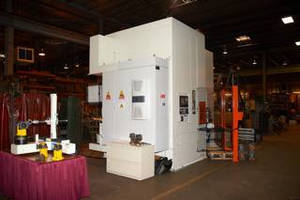 SAM 600G machining center and programming station introduced to the foundry market at open house, held at Hunter Automated near Chicago on May 19

Schaumburg, Illinois (USA)-Hunter Automated Machinery held an open house at its company headquarters in Schaumburg, Illinois, near Chicago, on Thursday, May 19, from 8 A.M. to 5 P.M. During this event, plant tours were conducted, plus demonstrations were offered on a new grinding center from Maus, one of Hunter's machinery partners whom they represent in North America.

Representatives from dozens of foundries, trade media, AFS (American Foundry Society) and others attended to see this new machine in action. An introductory presentation was given by Claudio Cossalter, sales director for North American operations at Maus. The event was hosted by Kevin Purdy, vice president for sales & marketing at Hunter, a major supplier of foundry equipment and an originator of automated matchplate molding systems. Purdy credited his assistant, Diane Nicolau, for handling all the details of the event. Two presentations were conducted during the day with demos of the Maus machine and programming station, with lunch provided offsite at a local restaurant.

The SAM 600G from Maus is a fully automated CNC automatic grinding center, compact yet powerful, with four-tool capacity and a product load/unload time less than four seconds. Built with a rotary turntable for loading/unloading of the workpieces, this Maus machine can significantly improve a foundry's finishing operations. Multi-spindle grinding is programmable for the cutting of risers and gating, plus surface and internal grinding.

Also displayed at the event was the Maus programming station, where the workpiece to be finished is dimensioned with all data recorded on a pc. The resulting program is transferred to the Siemens CNC on the Maus grinding center via USB device, thereby saving set-up time and significantly reducing machine downtime.

In the North American market, Hunter also represents Space', Primafond and Versatile, all builders of related foundry equipment for metalcasters.

Hunter and its partners will be exhibiting at GIFA, the international foundry exposition, upcoming June 28-July 2, 2011 in Dusseldorf, Germany.