Humphrey TAC Series Valves Now Made with Anodized Aluminum Bodies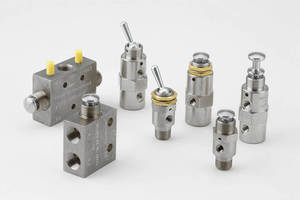 Humphrey Total Air Control(TAC) Series valves now made with anodized aluminum alloy bodies instead of bright-dipped brass. The change to aluminum brings visual consistency to the company's existing product line of anodized aluminum pneumatic valves, plus aluminum maintains its appearance longer than brass and is lighter in weight. In durability testing, the aluminum bodies exhibited the same corrosion resistance as the brass body valves.

TAC valves offer simple, non-electronic control options for a range of machine and equipment controls. The valves are available in three port sizes (10-32, 1/8, 1/4), and in 2-way, 3-way and 4-way, or spring return. The valves can be operated by their manual push button(s), a range of mechanical operators, or by a variety of air pilot operators to achieve pneumatic logic control. The valves can be mounted in any position, in-line or panel mounted. TAC Series valves feature air energized seal construction to reduce friction for smooth performance and long service life. The valves have a working pressure range from 0 to 125 psig, a temperature range from -20º to +180º F, and can operate at speeds up to 900 CPM.


More from Software