Humphrey Pneumatic Guided Actuators Offer High Positioning Accuracy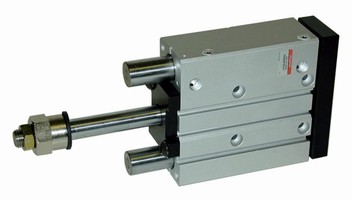 Humphrey GC and GS Series Pneumatic Guided Actuators are simple, reliable, and provide high positioning accuracy for linear motion applications such as pick-and-place. The actuators feature standard industrial bearings, shock absorbers (GS only), piston magnets and optional sensors that are widely available, mechanical collars for easy stroke adjustment, and standard hole patterns for simple horizontal or vertical mounting.

The GC Series actuators are economical and designed for simple "push" applications. The GS Series actuators have superior rigidity and accuracy, and are designed for pick-and-place applications. The Model GS comes standard with integrated shock absorbers and infinite stroke adjustment. Both models are available in three sizes: 3/4-in. bore with 8-in. stroke, 1-1/16-in. bore with 12-in. stroke, 1-1/2-in bore with 16-in. stroke. The precision-machined body and tool plates on the actuators have key slots and a universal mounting hole pattern for easy, precise mounting to secondary actuators and equipment.


More from Fluid & Gas Flow Equipment