Humidity/Temperature Monitor eliminates manual record keeping.
Press Release Summary: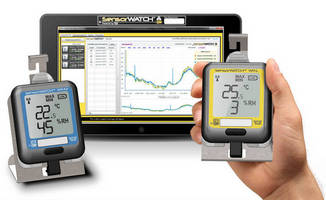 Featuring plug-and-play installation, SensorWATCH™ factory-wide humidity and temperature monitoring system reduces risk of MSD- and ESD-related defects. System offers customer audit report data and protection, 24/7/365 access to factory conditions worldwide via any Internet-enabled device, and electronic, time-stamped logging and cloud storage. Triple-source Guard Dog protection ensures no data loss security and allows instant response to requests.
---
Original Press Release:

ECD Debuts SensorWATCH(TM)



First-Ever Factory-Wide Humidity Monitoring System Mitigates MSD and ESD Risk



ECD, best known for its award-winning M.O.L.E.® thermal profiling technology, announces the launch of its latest innovation designed to reduce the risk of MSD- and ESD-related defects.  The brand new system, called SensorWATCH™, is a market-first, factory-wide humidity and temperature monitoring system that provides customer audit protection, delivers 24/7/365 access to factory conditions worldwide and eliminates time-consuming manual record keeping.



"As devices get smaller and densities tighter, the impact of moisture on electronics manufacturing is greater than ever before," explains ECD's Todd Clifton, VP of Sales and Marketing.  "Moisture can adversely affect almost everything in an electronics manufacturing environment and cause corrosion, poor solder paste performance, as well as delamination and internal cracking at the component level.  Measuring and recording temperature and humidity is critical to complying with standards developed to prevent MSD- and ESD-related defects. This is precisely what SensorWATCH is designed to do."



A comprehensive humidity and temperature monitoring system, SensorWATCH has been created by electronics specialists who understand the unique MSD and ESD challenges and requirements facing today's manufacturers.   The technology provides the first-ever factory-wide tool with benefits such as:



• Audit Protection:  Continuous monitoring, logging and recording of factory-wide humidity and temperature levels, providing on-demand customer audit report data.

• Anytime, Anywhere Access:  24/7/365 access to humidity and temperature data in any company facility, for any monitored process area, at any time, on any internet-enabled device.

• Traceability:  Triple-source Guard Dog protection guarantees no data loss security and allows instant response to requests.

• Elimination of Manual Record Keeping:  Error-ridden and intermittent manual record keeping is replaced with electronic, time-stamped logging and cloud storage.

• Task-Specific Instruments:  Purpose-built sensors are calibrated for the unique requirements of specific areas such as screen printing and dry cabinets.

• Plug and Play Install:  Open the box, place sensors in the desired locations, turn on the system and go. 



"This technology has been long-needed by electronics manufacturers," concludes Clifton.  "ECD understands and embraces measurement and analysis:  it's what we do better than anyone else.  SensorWATCH embodies this expertise with a mission-critical, easy-to-use, factory-wide system that eliminates humidity and temperature monitoring challenges and the defects that can come with out-of-balance conditions."



SensorWATCH will be commercially available in April 2013.  For more information or to download a free copy of ECD's "Guide to Humidity Monitoring", log onto www.sensorwatch.com or call 1-503-659-6100.



Except as otherwise noted, all marks used herewith are trademarks and/or registered trademarks of ECD, Inc. and/or its affiliates in the US and elsewhere.



About ECD



ECD is recognized worldwide for its leadership and expertise in thermal monitoring and analysis technology.  Based in Milwaukie, Oregon, the company is a pioneer in the design, development, and manufacture of advanced thermal profiling systems and software used to monitor and analyze process temperatures in various industries including electronics, solar and baking, among others.  Well-known for its data-rich software platform and robust hardware functionality, ECD is the thermal profiling choice of engineering professionals worldwide. For more information on ECD and its products, visit www.ecd.com.



Company Contact:

Todd Clifton

V.P. Sales & Marketing, ECD

(o) 503-659-6100 Ext. 238

todd.clifton@ecd.com



Media Contact:

Laura Sims

Sims Communications, Inc.

(o) 770-829-4757

(c) 404-661-0348

laura@simscomm.com

More from Computer Hardware & Peripherals