Temperature Sensors / Detectors / Transducers
Humidity and Temperature Sensor measures 2 x 2 x 0.8 mm.
Press Release Summary: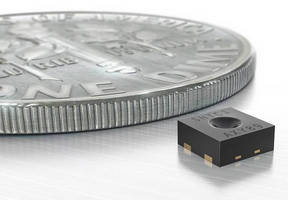 Designed for mobile devices, SHTC1 is based on CMOSens® Technology that lets sensor and signal processing electronics be combined on one silicon chip. Sensor operates from 1.8 V supply and measures humidity from 0%–100% RH with ±3% RH typ accuracy as well as temperature from -30 to +100°C with ±0.3°C typ accuracy. Fully calibrated and suitable for reflow soldering, product comes standard with digital I²C interface.
---
Original Press Release:

Sensirion Launches the World's Smallest Humidity and Temperature Sensor



At Electronica 2012 Sensirion presents the world's smallest humidity and temperature sensor, setting new standards for size, power consumption, production volume and price.



The tiny SHTC1 humidity and temperature sensor is specifically designed for mobile devices where size is a critical factor. Sensirion has rigorously followed the maxim "smaller is better" and developed the world's smallest sensor in its class, measuring a mere 2 x 2 x 0.8 mm.



The sensor is based on the proven CMOSens® Technology, which allows the sensor and the signal processing electronics to be combined on a single silicon chip to achieve small device size. Production is targeted at high volume to allow low unit prices to be achieved by economy of scale. The supply voltage of 1.8 V is also fully in line with the needs of the target industry.



The specifications of the new sensor show that the size, power consumption and price reductions do not have any impact on performance. It measures relative humidity over a range of 0 to 100 %RH with a typical accuracy of ±3 %RH. The temperature measuring range is -30 to +100 °C with a typical accuracy of ±0.3 °C. The sensor is fully calibrated, has a digital I²C interface, and is suitable for reflow soldering. This makes it compatible with standard industrial mass production processes for electronic modules. To ensure effective integration of the sensor in complex applications, Sensirion draws on its many years of experience with sensor products deployed in the millions and supports customers with corresponding application expertise. The new SHTC1 humidity and temperature sensor combines extreme miniaturization with top performance, and with Sensirion's implementation support it is doubtless a decisive step ahead of the competition.



More information on the SHTC1:

Website: http://www.sensiron.com/shtc1



About Sensirion

Sensirion AG, headquartered in Staefa, Switzerland, is the world's leading manufacturer of digital microsensors and systems. The product range includes humidity and temperature sensors, mass flow controllers, gas and liquid flow sensors, and differential pressure sensors. An international network with sales offices in the USA, Germany, China, Japan and Korea supplies international OEM customers with tailor-made sensor system solutions for a vast range of applications. Among other things, these include analytical instruments, consumer goods and automobiles, as well as the medical and HVAC industries. One of the hallmark features of Sensirion products is the use of patented CMOSens technology. CMOS-based sensor elements and systems permit intelligent system integration, including calibration and a digital interface. Sensirion's credentials as a reliable OEM supplier are underscored by its ISO/TS 16949 certification.



Contact: www.sensirion.com, info@sensirion.com, Tel. +41 44 306 40 00, Fax +41 44 306 40 30

More from Machinery & Machining Tools