Human Cytokine Assay provides single-digit fg/ml measurement sensitivity.
Press Release Summary: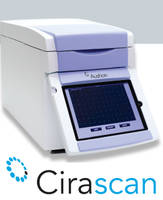 Capable of detecting low levels for up to 3 biomarkers in one assay, Human Cytokine 3-Plex IL-1β, IL-6, IL-10 Multiplexed Assay enables clinician's for simultaneous measurement of biomarkers.
---
Original Press Release:
Aushon BioSystems Adds Multiplexing to its Ciraplex™ ULTRA Ultrasensitive Assay Product Line with the Launch of New Human Cytokine IL-1β, IL-6, IL-10 Ultrasensitive 3-Plex Array at the 13th Annual Biomarker and Diagnostic World Congress 2017
New Study Outlines the Utility of Ultra-Sensitive Multiplex Protein Arrays in the Development of Novel Pharmacodynamics, Prognostic and Predictive Biomarkers
Aushon BioSystems, a leading provider of high sensitivity assays, instrumentation and services for multiplex quantitative detection of protein biomarkers, today announced the launch of the Ciraplex ULTRA Ultrasensitive Human 3-Plex IL-1β, IL-6, IL-10 Multiplexed Assay.
"We believe the ability to combine ultrasensitive detection with multiplexing will change the way clinicians use biomarkers to diagnose and treat diseases", said Susan Vogt, CEO of Aushon. "As we work closely with our clinical partners, Aushon continues to be committed to advancing multiplexing capabilities for complex disease studies in the area of precision medicine."
The new Aushon Ciraplex ULTRA Ultrasensitive Human 3-Plex IL-1β, IL-6, IL-10 Multiplexed Assay is a plate based protein array with ability to obtain low levels of detection for up to 3 biomarkers in one assay. The new product advancement allows clinician's with precious samples to measure biomarkers simultaneously, rather than sequentially, thus optimizing sample consumption. The ultrasensitivity is measured at single-digit femtogram/ml (fg/ml) levels which are unmatched by other standard protein immunoassay methods.
"Low levels of detection are the cornerstone of our Ciraplex ULTRA line of assays", said Scott Van Arsdell, Ph.D., Vice President, Immunoassay Technology. "The new 3-Plex assay enables clinical researchers to detect very low levels of cytokines in their samples which would not be possible before. The real advantage is having the confidence that you can run one sample and obtain reliable, quantifiable results for multiple biomarkers. "
In conjunction with the launch of the Ciraplex ULTRA Ultrasensitive 3-Plex Assay, Andrew Nixon, PhD., Professor of Medicine and Director of the Duke Phase I Biomarker Laboratory, Molecular Reference Lab, Duke University will present data at the Biomarkers and Immuno-Oncology World Congress in Philadelphia on Wednesday, May 3, 2017 at 8:25AM. Dr. Nixon will show technical data and patient data from samples run on the new Aushon Ciraplex Human Cytokine 10-plex Array and Ciraplex ULTRA Ultrasensitive 3-plex kit demonstrating the use of ultrasensitive multiplex protein arrays in immuno-oncology biomarker development.
About Aushon BioSystems
Aushon BioSystems, Inc. is leading the way in protein biomarker discovery, development and analysis. Through the unique combination of proprietary microarray printing, extensive biomarker content and ease-of-use, the Cira™ immunoassay platform is serving leading pharmaceutical companies, contract research organizations and clinical reference laboratories worldwide. Our products are used for applications in preclinical and clinical biomarker research accelerating the evaluation of potential drug candidates and advancing the use of biomarker profiles in diagnostics. For more information go to: http://www.aushon.com.
Contact:
Aushon BioSystems, Inc
43 Manning Rd
Billerica, MA 01821
Phone: 978-436-6400
More from Agricultural & Farming Products