Hudson-Sharp Exhibits at Arabplast in Dubai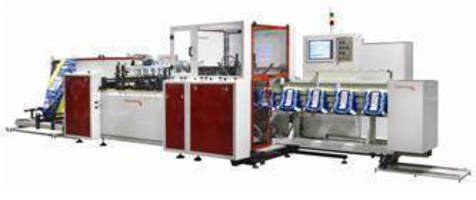 Belgium, Zellik — Hudson-Sharp announced with pleasure that it will exhibit at Arabplast in Dubai from January 10—13, 2015. Arabplast is the largest plastics, petrochemicals and rubber industry trade show in the Middle East and North Africa region. Hudson-Sharp invites visitors to Stand 7B 145 as it shares the newest developments of its complete product lines and features the latest version of the model 5750 W High Speed Wicketer.



The 5750 W includes several new standard and optional features designed to help customers reach higher efficiencies, save energy, and reduce waste levels and downtime, while optimizing safety for operators.



For certain applications and under optimum conditions, the 5750 W can run consistently in a production environment at cycle speeds of 450 per minute. The use of new materials for key components combined with the latest servo technology has contributed significantly to the increase in running speed. Both the new standard airless anti-static system and servo-driven wicket punches save energy and improve running costs.



Hudson-Sharp's automatic seal bar cleaner reduces downtime and enhances quality. A debris-free seal bar helps to ensure stronger seals. The machine can be programmed to stop at pre-set intervals for the seal bar to be automatically cleaned of any accumulated debris. While manual cleaning takes several minutes, this automatic cleaning cycle takes only 12 seconds.



Hudson-Sharp also offers different options to ease the handling of finished stacks of bags. Ranging from a simple stack processor to a robotic system for automatic boxing, solutions can be customized for individual requirements. Automation includes insertion of wicket wire, boards and grommets and insertion of finished stacks into boxes. The WASP or Wicket Automation Stack Processor has been ergonomically designed to reduce repetitive strain injuries for the machine operator.



At Arabplast, Hudson-Sharp will also unveil a new generation of tools designed to help existing and potential customers during change-over from one job to another at amazing speed rates. Visitors to the show can learn more about these tailored offerings in upgrades and attachment in Stand 7B 145.



As a leader in Bag Converting Equipment, Hudson-Sharp is a member of Thiele Technologies, a global leader in cartoning and robotics, case erecting, bliss and tray, palletizing, feeding, placing, bagging and bag converting equipment and has its European headquarter in Brussels (Belgium). Thiele Technologies is a member of the Barry-Wehmiller family of companies.



ABOUT BARRY-WEHMILLER



Barry-Wehmiller Companies, Inc. is a diversified global supplier of engineering consulting and manufacturing technology for the packaging, corrugating, sheeting and paper converting industries. Our balanced approach to the market is made possible through ten interactive divisions: Accraply, Arcil, BW Container Systems, Barry-Wehmiller International (BWI), BW Papersystems, Design Group, Hayssen Flexible Systems, Paper Converting Machine Company (PCMC), PneumaticScaleAngelus  and Thiele Technologies.



By blending people-centric leadership with disciplined operational strategies and purpose-driven growth, Barry-Wehmiller has become a $1.7 billion organization with 8,000-plus team members united by a common belief:  to use the power of business to build a better world. To see how, go to barry-wehmiller.com.







More from Packaging Products & Equipment