HUBER+SUHNER Adds FullAXS Mini Assemblies to Its Outdoor Connectivity Portfolio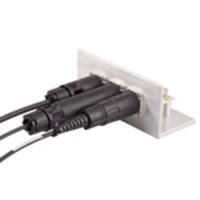 Licensed from TE Connectivity, the connector sealing system offers small size, easy mating and extreme durability for fiber, signal and power connections
Herisau, 30 October 2018. HUBER+SUHNER, a leading manufacturer of components and systems for optical and electrical connectivity, announced today that it has added FullAXS Mini assemblies under license from TE Connectivity to its outdoor connectivity offering for wireless communication and industrial applications.
As electrical equipment for outdoor use continues to get smaller in size, the FullAXS Mini connector sealing system is 23 percent smaller than the well-known FullAXS system, allowing the user to design-in fiber, signal and power connectivity where needed. HUBER+SUHNER offers FullAXS Mini assemblies with LC Duplex, RJ-45 and power connectors inside.
The FullAXS Mini connector sealing system can deliver a watertight seal up to IP65 and IP67 levels, uses UV material to meet F1 rating UL 94-V0 and could withstand all applicable lightning strike requirements, making the new addition ideal for many harsh outdoor environments, including wireless and microwave equipment, industrial, robotic, and aerospace and defense applications.
The FullAXS Mini connector sealing system also enables one-handed, blind installs from different angles. With 3-sense (visual, audio and tangible) locking feedback, floating connections and a twist angle of only 30 degrees, these products can be installed by field engineers of all levels of experience in virtually any location.
"The licensed FullAXS Mini assemblies are complementary with our experience and expertise in rugged connectivity solutions", said Carsten Dieckmann, Product Manager in the Fiber Optic Mobile Communication and Industry division of HUBER+SUHNER. "We can now offer our customers a complete portfolio for connectivity needs in wireless communication and industrial applications."
"Outdoor wireless and industrial equipment is getting smaller while needing to deliver more functionality, and connectors on that equipment must be smaller and more versatile," added Stefan Borgas, Product Manager at TE's Data and Devices business unit. "The FullAXS Mini connector sealing system delivers the small size, ease of installation, and ruggedness necessary to address today's wireless and industrial equipment designs."
TE Connectivity
TE Connectivity Ltd. Is a $13 billion global technology and manufacturing leader creating a safer, sustainable, productive and connected future. For more than 75 years, our connectivity and sensor solutions, proven in the harshest environments, have enabled advancements in transportation, industrial applications, medical technology, data communications, and the home. With 78000 employees, including more than 7000 engineers, working alongside customers in nearly 150 countries, TE ensures that EVERY CONNECTIONS COUNTS.
TE Connectivity, TE, FullAXS and EVERY CONNECTION COUNTS are trademarks of the TE Connectivity Ltd. family of companies.
HUBER+SUHNER Group
HUBER+SUHNER, the global company with headquarters in Switzerland, develops and produces components and system solutions for electrical and optical connectivity. HUBER+SUHNER serves customers in the three markets of communication, transportation, and industrial with cables, connectors, and systems developed for the three core technologies of radio frequency, fiber optics and low frequency. HUBER+SUHNER products stand for highest performance, quality, reliability and longevity, even under demanding conditions. The company's global production network, combined with group companies and subsidiaries, ensures that HUBER+SUHNER is close to its customers in over 60 countries. Further information on the company is available at hubersuhner.com
HUBER+SUHNER AG 
CC & Global Sustainability
9100 Herisau
Switzerland
Axel Rienitz
Trade Media Relations
Phone +41 71 353 4220
Proactive International PR
Phone +44 (0)1636 704888
More from Electrical Equipment & Systems