https://continentalfan.com/e-catalog/cabinet-cooling-fans/mnc-mixed-flow-cabinet-cooling-fans/ incorporates adjustable blade geometry.
Press Release Summary: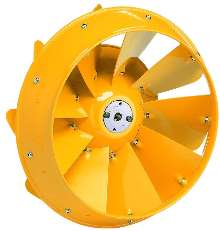 MF Mixed Flow Impeller provides non-stall airflow properties and non-overloading power curves. It delivers greater airflow than centrifugal fans and more pressure than axial fans. Available in diameters from 315-1,000 mm, product can be used for OEM applications such as electronic cooling or to provide general ventilation for industry and office buildings.
---
Original Press Release:
MF Mixed Flow Impeller
The MF Mixed Flow Impeller has been designed for use in a variety of air moving equipment. MF Mixed Flow Impellers have 'non-stall' airflow properties and non-overloading absorbed power curves. The secret of MF Mixed Flow technology lies in its patented impeller, extensively researched and incorporating the world's only adjustable blade geometry. MF Mixed Flow Impellers deliver greater airflow than centrifugal fans, and more pressure than axial fans. Designed using the latest computer aided technology; the MF Mixed Flow Impeller blade angle adjustment feature provides a wide range of performance options that are exceptionally quiet and efficient. MF Mixed Flow Impellers are available in diameters between 315 mm and 1000 mm and can be used for OEM applications such as electronic cooling, or to provide general ventilation for industry and office buildings. FEATURES · Superior Noise Characteristics · Moderate Pressure Development · Non-overloading Power Curve · Wide Operating Range · Fully Tested Performance Figures · Computer Fan Selection Program The MF Mixed Flow Impeller, another Air Moving Solution from: Continental Fan ......... better AIRFLOW by DESIGN(TM) For more information contact: Jim Paron UNITED STATES Continental Fan Manufacturing Inc. 203 Eggert Road, Buffalo, NY 14215 Tel: (800) 779-4021 Fax: (716) 842-0611 cfm@continentalfan.com www.continentalfan.com CANADA Aeroflo Inc. 12-205 Matheson Blvd. East, Mississauga, ON L4Z 3E3 Tel: (905) 890-6192 Fax: (905) 890-6193 aeroflo@aeroflo.com www.aeroflo.com
More from Architectural & Civil Engineering Products