DC to DC Power Supplies (Converters)
HQA85 Series DC-DC Converters feature 270 kHz switching frequency.
Press Release Summary: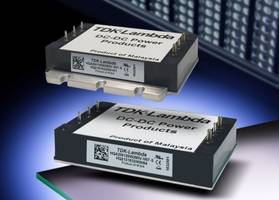 Available with 12V, 24V and 28V outputs, HQA85 Series DC-DC Converters offer 2,250Vdc input-to-output and input to baseplate isolation. Meeting MIL-STD-883 and MIL-STD-202 standards, units can withstand 50 V surge for 10 seconds. Operated in -40°C to 115°C ambient temperature range with 9V to 40V DC input, converters come in 2.39 x 2.2 x 0.5 in. and 2.39 x 1.54 x 0.5 in. dimensions of flanged and non-flanged versions respectively.
---
Original Press Release:
Harsh Environment and COTS DC-DC Converter Series Extended with 85W Models
TDK Corporation announces the introduction of additional models to the TDK-Lambda HQA series of isolated DC-DC converters. Rated at 85W, the HQA85 has been qualified with methods consistent with MIL-STD-883 and MIL-STD-202, making it suitable for use in COTS and harsh environment industrial equipment. Initially available with 12V, 24V and 28V outputs, the encapsulated quarter bricks accept a wide range DC input of 9V to 40V, withstanding a 50V surge for 10 seconds.
With typical efficiencies of up to 90%, internal heating is minimized allowing the HQA85 converters to operate in high ambient temperatures of up to 115°C and a minimum of -40°C. No opto-couplers are used in the design for enhanced reliability at high temperatures and the switching frequency is fixed at 270 kHz for simplified noise filtering.
The converter pinout follows the industry standard five pin quarter brick footprint featuring negative logic remote on/off and +/- remote sense. Two package styles are offered; a flanged type measuring 2.39" x 2.2" x 0.5" and a non-flanged version measuring 2.39" x 1.54" x 0.5".
Input-to-output and input to baseplate isolation is 2,250Vdc (basic insulation), and the converters are safety certified to UL/CSA/EN 60950-1, with the CE marking in accordance with the LV Directive and RoHS Directives.
More information can be obtained at the following TDK-Lambda Americas website, http://www.us.tdk-lambda.com/lp/products/hqa-series.htm, or by calling 800-LAMBDA-4. Product availability for the HQA series can be found via the link to TDK-Lambda's distributor network (see "Check Distributor Stock to Buy") at http://www.us.tdk-lambda.com/lp/.
Major applications
COTS (Commercial off the Shelf), vehicle, airborne, communications and harsh industrial.
Main features and benefits
Industry standard ¼ brick pinout
Efficiencies up to 90% at 24Vdc input
Operating ambient temperatures up to 115°C
No opto-couplers used
Major specifications
         Model                                          HQA2W085W120V                          HQA2W085W240V                    HQA2W085W280V   Nominal Output voltage       Vdc                  12V                                         24V                                              28V                   Input voltage range                Vdc                                                 9 – 40V (50V transient for 1s)                                               Output Power                           W                                                                  85W                                                                         Efficiency (typ. at 24V input)     %                    90%                                      87%                                               88.5%                 Operating ambient temperature  °C                                                      -40 to 115°C                                                                      Cooling                                      -                                                     Heatsink or cold plate                                                              Safety                                       -                         UL 60950-1, CSA 60950-1, EN 60950-1, CE Mark (LVD & RoHS)                      Size (W x H x D)                       mm                       Non-flanged version: 60.6 x 39 x 12.7 Flanged version: 60.6 x 55.9 x 12.7
About TDK Corporation
TDK Corporation is a leading electronics company based in Tokyo, Japan. It was established in 1935 to commercialize ferrite, a key material in electronic and magnetic products. TDK's portfolio includes electronic components, modules and systems* marketed under the product brands TDK and EPCOS, power supplies, magnetic application products as well as energy devices, flash memory application devices, and others. TDK focuses on demanding markets in the areas of information and communication technology and consumer, automotive and industrial electronics. The company has a network of design and manufacturing locations and sales offices in Asia, Europe, and in North and South America. In fiscal 2016, TDK posted total sales of USD 10.2 billion and employed about 92,000 people worldwide.
About TDK-Lambda Corporation
TDK-Lambda Corporation, a group company of TDK Corporation, is a leading global power supply company providing highly reliable power supplies for industrial equipment worldwide. TDK-Lambda Corporation meets the various needs of customers with our entire range of activities, from research and development through to manufacturing, sales, and service with bases in five key areas, covering Japan, Europe, America, China, and Asia.
For more details, please pay a visit to http://www.tdk-lambda.com/
Contacts for regional media Region Contact Phone Mail Americas
Tom Tillman
TDK-Lambda Americas
(619) 575 4400
Contact This Company Download Spec Sheet
More from Electrical Equipment & Systems