HPLC Column Packer has compact design.
Press Release Summary: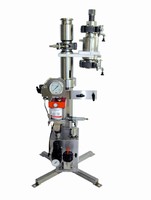 Pack-n-Sep(TM) 50 combines advantages of 2-in. ID Dynamic Axial Compression (DAC) column and device capable of packing multiple columns that can be used separately with HPLC, SMB, or Varicol® systems. Preparative HPLC column is suited for purification of grams to hundreds of grams, and unit packs beds up to 10 in. in 13 in. long column. System attaches to packer in DAC mode or can be used separately in non-DAC mode.
---
Original Press Release:
Novasep Process Introduces 'Pack-N-Sep 50' Preparative HPLC Column
Novasep Process recently launched the Pack-n-Sep™ 50, a new series of preparative HPLC Columns. This column is ideally suited for purification of grams to hundreds of grams. It combines both the advantages of a 2-in. (50 mm) i.d. Dynamic Axial Compression (DAC) column and of a device capable of packing multiple columns that can be used separately with HPLC, SMB, or Varicol® systems. The new Novasep Process Pack-n-Sep™ series offer unmatched advantages for medicinal and process development chemists such as fastest packing and unpacking in less than five minutes. It has a compact design for user-friendly handling. It can pack beds of up to 10 in. (27 cm) in a 13-in. (34-cm) long column. As most of the column's critical parts are the same as in the market leader Prochrom® LC50 column, it boasts an unrivalled reliability.

Both the shorter (for SMB) and longer (for HPLC) columns are packed with the same packer for versatility. The smart design allows one packer to support numerous columns to meet a lab's needs at a cost-effective price.

Pack-n-Sep™ can be used attached to the packer in DAC mode for applications demanding very high column efficiency and long-term bed stability. They can also be used separately in non-DAC mode, with a unique feature for readjusting the packing pressure, and hence the efficiency, in seconds. This column is ideally suited for Hipersep® LAB, fully automated preparative HPLC systems, and Varicol® LAB continuous multicolumn chromatography systems.

Novasep Process specializes in solving purification challenges for the pharmaceutical, biopharmaceutical, and industrial biotech markets. The company offers laboratory purification equipment to large-scale industrial production plants for producing pure products and a full range of services ranging from process development, and from multi-ton scale custom purification to performance optimization.

To serve its different markets, Novasep Process offers innovative and reliable solutions based on Novasep Process proprietary technologies: Novasep chromatography (high and low pressure) and crystallization, Applexion ion exchange and evaporation, and Orelis membranes processes.

For further information, please contact:

GROUPE NOVASEP

Marine Bence

Marketing & Communication Manager

Boulevard de la Moselle – B.P. 50

54340 Pompey

FRANCE

Tel: +33 (0) 4 72 01 28 48

Fax: +33 (0) 4 78 55 38 33

E-mail: marine.bence@novasep.com

FRENCH TECHNOLOGY PRESS OFFICE

205 North Michigan Avenue, Suite 3740

Chicago, IL 60601

Tel: (312) 327-5260

Fax: (312) 327-5261

E-mail: contact.ftpo@ubifrance.fr
More from Services