HPHT Wet-Mate Connector operates in extreme subsea environments.
Press Release Summary: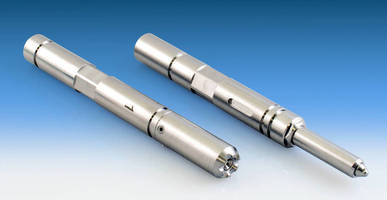 Designed for operation in such environments as those found in subsea and downhole oil and gas applications, Elite Series Wet-Mate 3-channel, high-pressure, high-temperature (HPHT) connector is functionally tested to 1,034 bar and up to 150°C. This 15.8 mm dia connector, used to communicate electrical signals, features concentric contacts that are individually sealed within pressure-balanced, oil-filled plug and receptacle connector housings.
---
Original Press Release:

AMETEK HPHT Wet-Mate Connector Developed for Extreme Subsea Applications



Elite Series Connectors Offer Reliability in Extreme Subsea Environments



ROSEMEAD, CA — AMETEK Subsea Interconnect has expanded its portfolio of high-pressure, high-temperature (HPHT) connectors with the addition of its latest Elite Series Wet-Mate connector. The 3-channel connector is designed to operate reliably in the extreme environments found in subsea and downhole oil and gas applications. The HPHT connector is just 15.8mm in diameter and has been functionally tested to 1034 bar and temperatures as high as 150°C.



The unique Elite Series Wet-Mate connector belongs to a range of AMETEK HPHT feedthrus and wet-mate and dry-mate subsea connectors used to communicate electrical signals from downhole pressure and temperature sensors in subsea oil and gas environments.



The Elite Series Wet-Mate connectors feature a distinctive, patented design in which concentric contacts are individually sealed within pressure-balanced, oil-filled plug and receptacle connector housings. That configuration protects both plug and socket contacts from the external seawater environment and ensures the highest level of reliability along with repeated subsea mating capability at extreme pressures and temperatures.



How Does It Work?

As illustrated below, the sealed receptacle with its concentric contacts features an oil-filled primary chamber to prevent water ingress. Each electrical band is protected further within an individual secondary oil-filled chamber when mated. All chambers have individual seals, so that the failure of any one seal does not compromise the connector's overall integrity.



A central female pin, axially displaceable in the central passage, prevents water ingress or loss of oil when the connector is not mated. A main insulated plug core with contact bands on the connector displaces the female pin during the mating process. The plug core is protected by an outer sleeve that covers the contacts in the oil-filled chamber.



Each connector half is individually sealed, and, when mated, the whole assembly is pressure balanced minimizing stresses within the sealing areas.



Subsea Interconnect is a leader in custom electrical and optical subsea connectors, fiber-optic feedthrus and cable assemblies for the oil and gas industry. It is a unit of AMETEK Interconnect Technologies within AMETEK, Inc., a leading global manufacturer of electronic instruments and electromechanical devices with annual sales of more than $4 billion.



For additional information, contact Subsea Interconnect, 4232 Temple City Blvd., Rosemead, CA 91770, USA. Telephone: +1 626-443-8931. Fax: +1-626-443-6610. Web site: www.ametekinterconnect.com

More from Sensors, Monitors & Transducers