HPEC Computing Blade features 6U VPX format.
Press Release Summary: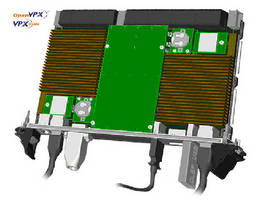 With 2 independently implemented processing nodes linked to Ethernet and PCIe infrastructure, Model VX6060 is suitable for intensive parallel computing workloads where cluster of VX6060s can be used in full mesh VPX or switched OpenVPX environments. Each processing node implements Intel® Core(TM) i7 processor, coupled with Intel® Platform Controller Hub QM57 and numerous Gigabit Ethernet, SATA, USB 2.0, and PCIe channels. Unit comes in both forced-air and conduction-cooled versions.
---
Original Press Release:

Kontron Introduces its First Intel® Core(TM) i7 Processor-Based VPX Blade



The ultimate HPEC computer blade in 6U VPX format; twice the computing power, half the heat

Poway, CA, USA, - In the wake of the Intel® Core(TM) i7 processor announcement at the International Consumer Electronics Show in Las Vegas, Kontron today introduces the Kontron VX6060, an innovative VPX computing blade for parallel data and signal processing applications.

With two independently implemented Intel® Core(TM) i7 processing nodes linked to a powerful Ethernet and PCIe infrastructure, the Kontron VPX blade VX6060 is the ideal building block for intensive parallel computing workloads where a cluster of Kontron VX6060s can be used in full mesh VPX or switched OpenVPX environments.

Each processing node implements Intel's next generation high performance embedded processor with integrated memory controller and Intel® HD graphics - the Intel® Core(TM) i7 processor - coupled with the highly integrated Intel® Platform Controller Hub (PCH) QM57 with numerous Gigabit Ethernet, SATA, USB 2.0 and PCIe channels.

"Our Kontron VX6060 is the ultimate computing tool MAG HPEC users have been waiting for, allowing them to finally walk away from 10 years of PowerPC Altivec(TM) dominance in radar, sonar and imaging applications," declares Dirk Finstel, CTO of Kontron AG. "Combined with the power of 6U VPX backplane infrastructure, a new range of outstanding HPEC applications are now becoming possible using only standard technology (Linux or RTOS on x86 and TCP/IP) for which the future is already laid out. With two dual-core high performance embedded processors, the Kontron VX6060 is the right answer for rugged embedded computing where the power envelope and dissipation constraints at extreme temperatures of computers designed for harsh environments still prohibit the use of quad-core silicon."

Target applications include radar, sonar, imaging systems, airborne fighters and UAV radar which will use clusters of the Kontron VPX blade VX6060. On the other hand, thanks to the rich collection of I/Os included for each node, rugged multi-display consoles and many other types of embedded applications will find in the Kontron VX6060 a unique value proposition of two independent Single Board Computers in a single 6U VPX slot, with the potential to run a different OS on each processor.

Available in forced air cooled and conduction cooled versions, the Kontron VX6060 comes with PowerMP, a collection of off-the-shelf software featuring complex computer cluster health management and a stress test tool allowing computer qualification prior to the final application availability, a key asset to shorten large program development time. PowerMP software is already in use today in UAVs, radars and sonars throughout the world, where it is utilized in previous generations of Kontron VME and CompactPCI computing nodes.

Kontron's new 6U VPX board comes with EFI BIOS and supports Linux and VxWorks 6. It is covered by Kontron's long term supply program, which guarantees customers multi-year supply of the product beyond its active life.

For more information on the Kontron VX6060, please contact: info@kontron.com For more information on VPX, please visit: www.kontron.com/vpx/

For more information on rugged COTS solutions, please visit: www.kontron.com/about-kontron/custom-solutions/rugged-cots/

About Kontron

Kontron designs and manufactures embedded and communications standards-based, rugged COTS and custom solutions for OEMs, systems integrators, and application providers in a variety of markets. Kontron engineering and manufacturing facilities, located throughout Europe, North America, and Asia-Pacific, work together with streamlined global sales and support services to help customers reduce their time-to-market and gain a competitive advantage. Kontron's diverse product portfolio includes: boards & mezzanines, Computer-on-Modules, HMIs & displays, systems & platforms, and rugged & custom capabilities. Kontron is a Premier member of the Intel® Embedded Alliance and has been a VDC Platinum Vendor for Embedded Computer Boards 5 years running. Kontron is listed on the German TecDAX stock exchange under the symbol "KBC". For more information, please visit: www.kontron.com

CONTACTS:

EMEA

Norbert Hauser

Kontron

Tel: +49 (8341) 803-0

norbert.hauser@kontron.com

Americas

Richard Pugnier

Kontron

Tel:+1 (858) 623-3006

richard.pugnier@us.kontron.com

APAC

Richard Pugnier

Kontron

Tel:+1 (858) 623-3006

richard.pugnier@us.kontron.com

More from Chemicals & Gases