How to Get Shelf Attention with PET Clear Plastic Ship Flat Packaging!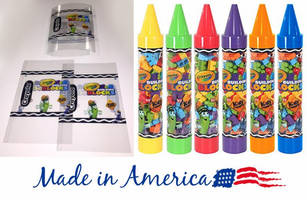 NY— Feb. 18, 2019 — How to get shelf attention with ship flat packaging! Printex Transparent Packaging is proud to announce winning the NJPEC Promotional Gold Award for the Kids@Work Building Blocks Block Bin! This is our second collaborative award winning clear package in the highly competitive toy industry.
7 Advantages of the Printex Transparent Snap Cap
1. Printex Transparent Snap Cap:
Printex Transparent Packaging makes it possible for Kids@Work to store and showcase Children's Building Block Sets in a unique and practical way! We utilize our customized "Snap Cap" feature and interlocking PET sleeve. This is the second year in a row our Ship Flat packaging design with a Printex Transparent Snap Cap has won an award.  Last year we were awarded NJPEC Silver Package of the Year Award, and this year it is Gold!
2. Ship Flat Packaging:
To ship and store more efficiently, Printex Transparent Packaging manufactures your PET sleeve as a flat, semi rigid, plastic sleeve. The sleeve sets up into a large cube shaped container. The result is a container that mimics the actual building block. Our convenient clear sleeve packaging ships flat, saves space and saves dollars in shipping.
3. Fun & Functional:
This block shape reinforces the branding of the product. The custom shaped package is fun, provides efficient storage and is a decorative addition to a child's room or playroom.
4. Easy & Efficient:
We designed the Printex Snap Cap to assemble quickly and efficiently. It is easy to lock and assemble the Kids@Work injection molded top onto the bottom components. The top and bottom edges of the PET sleeve snap into place with our specially engineered die cut locking feature. This quick and positive locking feature allows for the re-closable top cap to attach to the sleeve body. The snap cap does not require any expensive sealing/affixing procedure such as screws, tape, glue and or welding etc.
5. Cost Efficient Shipping:
The special ship flat design allows for a more efficient way to transport a larger volume of cube shaped containers to the assembly destination. The advantages in plastic PET packaging are clear, this is how to get shelf attention with ship flat packaging!
6. Display Flexibility:
Not only does the flat clear sleeve package turn into a block, but the blocks then have the ability to stack one on top of another.  We designed the top cap to nest inside of the bottom. This gives the retailers a lot of flexibility. You can display the blocks individually or even as multi-stacked.
7. Shelf Presence:
Shelf presence is the most important advantage of the Printex Snap Cap. For example, the block shaped clear plastic package reflects what is inside. Also, the clear PET recyclable material also allows for the vibrant colored blocks to shine through. The Kids@Work brand logo stands out on the pre-printed the sleeve. So consequently, this a smart cost effective design, but also one with a large shelf appeal. This shelf appeal will generate many impulse buys and create impact on the shelf. In conclusion, the new block shaped package has already been well received by retailers and is another award winning clear package in the highly competitive toy industry.
For more information, press only:
Dave Tasse
1-800-461-8106
Email:  [email protected]
For more information on Product:
Website:  www.ptpackaging.com