How PCE Instruments' Borescopes Can Help Cut Machine-Failure Costs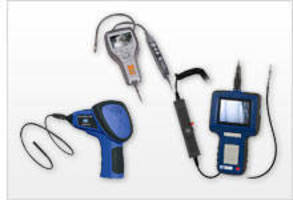 Jupiter, Fla. - Machine failure is costly. Beyond the immediate machine repair and replacement expenses lie lost profits resulting from manufacturing downtime. The good news is, by using PCE Instruments' borescopes for machine condition monitoring, manufacturers can identify changes indicative of a machine fault and take corrective action prior to critical machine failure. In effect, PCE Instruments' borescopes can help cut machine-failure costs.

PCE Instruments offers a variety of equipment for machine condition monitoring and nondestructive testing (NDT), including affordable, high-resolution borescopes for the visual inspection of engines, turbines, gears, bearings and other internal components. Which means, predictive maintenance personnel don't have to sacrifice image quality for price with PCE Instruments' borescopes.

For example, PCE-VE 200 costs just $277 yet boasts an image resolution of 1600 x 1200 pixels and a video resolution of 640 x 480 pixels. While PCE-VE 650 (pictured above) bears a price tag of $4127, the borescope features a detachable 3.5-inch LCD display, a rotating camera head (±90 degrees) with five lighting levels, and nearly 5 feet of cable.

For more information about PCE Instruments' borescopes, visit https://www.pce-instruments.com/english/measuring-instruments/test-meters/industrial-borescope-kat_40041.htm. For technical advice or to place an order, email info@pceamericas.com or call (561) 320-9162.

About PCE Instruments

PCE Instruments (PCE) is a leading developer, manufacturer and supplier of highquality test, control, lab and weighing equipment, offering more than 500 different measuring instruments for applications in engineering, manufacturing, food and hygiene, aerospace and environmental industries. Founded by German engineers nearly two decades ago, PCE boasts a large product portfolio that covers a wide range of scientific instrumentation needs, from environmental testers and moisture analyzers to lab and industrial scales and balances, video inspection cameras and sensor equipment. In addition, PCE's development department can provide specialized measurement products and solutions on demand. See https://www.pce-instruments.com/english/measuring-instruments/test-meters/industrial-borescope-kat_40041.htm for details.
More from Laboratory and Research Supplies and Equipment