Housing Covers protect automation sensors.
Press Release Summary: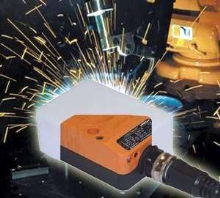 Suited for block-style inductive proximity sensors, Housing Covers provide protection from heat, abrasion, debris, and minor impacts. Fabricated from various plastic types including Teflon®, Delrin® and HDPE, units extend sensor life beyond that of unprotected sensors and can be customized to fit individual requirements.
---
Original Press Release:

Sensors Take Cover: Rugged Automation Sensors Benefit from Protective Covers


Frankfort, NY, July 14, 2005 SoftNoze introduces the availability of several new Housing Covers designed to protect block-style inductive proximity sensors from heat, abrasion, debris and minor impacts. Housing covers press-fit onto sensors to give them an "added skin". Original SoftNoze housing covers have proven to extend sensor life from mere days to months in tough automotive welding applications.

"With the addition of these housing covers, SoftNoze continues to expand its family of products to protect and make sensors last longer in tough manufacturing environments." according to George Zachary a Product Engineer at SoftNoze. Housing covers are useful in deflecting debris (paint overspray, chemicals and molten metal, etc.) and thus allow greater sensor reliability.

Fabricated from various plastic types including Teflon®, Delrin® and HDPE, these covers extend sensor life beyond that of unprotected sensors. "Even as sensor technology and housing materials improve, the cost of downtime continues to increase, therefore housing cover save both time and money", states John Ciccarelli head of Sales at SoftNoze. Covers are available in styles to fit most block-style inductive sensors, can be customized to fit individual requirements and are easily replaceable when worn. Sensor reliability improves by keeping the sensor-face free of debris, which would otherwise cause false signals and or degrade sensor output.

Housing Cover part numbers are derived from the dimensions of the sensor, style and the material used. For example, a part number such as HCI-40-40-40-T refers to the style "I" which protects only the sensing head, for a 40mm cube-style sensor fabricated from Teflon®.

SoftNoze USA, Inc. is the only company in the world dedicated exclusively to industrial sensor accessories and brackets. Offering thousands of standard models and an abundance of can-do attitude, SoftNoze is anxious to help MAPP (Mount, Apply, Position & Protect) sensors. www.softnoze.com

Contact:
Rajendra Mahich
(315)732-2726 ext. 27
[email protected]