Housekeeping Cart supports 5-S programs.
Press Release Summary: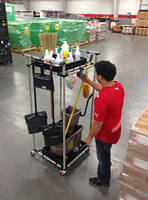 Constructed using Creform® System of plastic-coated steel pipe, joints, and hardware accessories, Housekeeping Cart stores and transports brooms, dust pans, mops, buckets, and hand brushes, as well as trash containers. Top and bottom pans, measuring 24 x 24 in., have 3 in. lip to contain spills and leaks. If needed, portable clean-up station can be expanded to house vacuums and power scrubbers. Color-coding by type or department is made possible by wide selection of pipe colors.
---
Original Press Release:
Creform® Clean-Carts Inspire Continuous Improvement
Continuous improvement efforts can range from finding better ways to manufacture with advanced technologies, to simply improving working conditions for employees.  At times, simple elements can be critical to a program's success, especially those requiring active employee involvement, such as the implementation of principles that establish an efficient, clean work zone…the 5-S program.  Straighten.  Standardize.  Shine.  Sweep.  Sustain.

In support of 5-S, the Creform® Corporation, Greer, SC, developed a new housekeeping cart design that conveniently stores and transports cleaning supplies, brooms, dust pans, mops and buckets, and hand brushes, plus trash containers and cleaning supplies.  The top and bottom 24" X 24" pans have a 3" lip to contain spills and leaks while conveniently storing cleaning supplies and buckets.  Hooks on extended pipes on three sides provide storage for cleaning tools and mop handle retainer pipes are located on the front. 

The cart's frame is constructed using the Creform® System of plastic coated steel pipe, joints and hardware accessories to produce a lightweight, maneuverable and flexible portable clean-up station.  The ease of assembly afforded by this system means the frame and storage hangers for equipment are easy to modify to accommodate the special needs of different departments.  If needed, the cart is easily expanded to house power equipment such as vacuums and power scrubbers or other supplies.

In addition, the economies provided by the cart's simple design and assembly procedures, along with the versatility of Creform components, makes having multiple Clean-Up Carts for use throughout facilities a viable option. Color-coding these carts by type or department is made possible by Creform's wide selection of pipe colors.  The proper display of cleaning supplies and equipment is an excellent way for a company to affirm its commitment to cleanliness and organization while providing the proper tools for those responsible to maintain it. 

The Creform System is used to create an array of material handling and efficiency enhancing devices, including push, special purpose and trailer carts, flow racks, roller conveyors, workstations, and AGV/AGCs. The Creform System is a proven component in continuous improvement and Lean Manufacturing programs, and the company partners with customers in developing and implementing these programs.                                                                                                                           

Online at www.creform.com
Creform is a registered trademark of Yazaki Kako Corporation and Creform Corporation