Housed Low Liquid Level Switch uses magnetic reed switch.
Press Release Summary: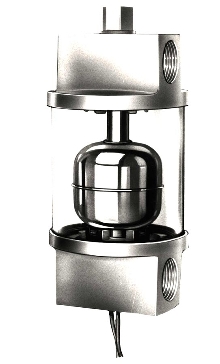 Designed to actuate devices when liquid supply fails or recedes to predetermined levels, switch can be wired to flash warning light, sound howler, shut off machine, or signal computer. Level switches operate at pressures up to 125 PSI and temperatures of 170°F. Buna N seals are used throughout, large liquid passages are provided, and float chamber has 2 end plates of aluminum alloy, which hold the transparent acrylic reservoir between 2 seals.
---
Original Press Release:
Low Liquid Level Switch In Housing

Oil-Rite Corporation has developed a new Low Liquid Level Switch in Housing to meet the requirements of today's fast paced industries.

The switches are used for remote indication of low liquid levels vital in protecting bearings against breakdown due to insufficient lubrication. The liquid level control switches are designed to actuate devices when the liquid supply fails or recedes to a predetermined level. It can be wired to flash a warning light, sound a howler, shut off a machine, or signal a computer. Automated plants demand bearing protection to safeguard against downtime and costly repairs.

The units are ideal for monitoring the low oil level in large bearings, gear cases, transformers, circuit breakers, unattended automated plants, refill oil tanks, replenish cutting oil on screw machines and many other applications.

Simplicity makes this switch reliable in operation. The liquid is piped directly into or through the transparent float chamber. A float carries a ring magnet inside and moves up and down on a central pipe which encloses a magnetic reed switch. When the liquid recedes, the float is lowered and the magnet actuates the reed switch at a predetermined level.

The level switches are constructed to meet the most rigid operating conditions. The units are safe to operate at pressures up to 125 PSI and temperatures of 170°F. max. Buna N seals are used throughout. Large liquid passages are provided to allow free flow and quick draining and response in case of a complete loss of liquid. The float chamber has two end plates of aluminum alloy which hold the transparent acrylic reservoir between two seals.

Outside of the end plates are forgings to provide an inlet and outlet for the liquid. A central pipe of stainless steel fastens the entire assembly together. The float is made of stainless steel in an all welded construction. A magnet on the inside of the float is fully protected from the liquid.

The liquid inlet and outlet has a 1/2" female pipe thread. The top outlet can be piped directly into the reservoir or bearing housing, or it can be vented to the outside for use on applications with atmospheric pressure. Protected vent fittings can be supplied for this purpose.

A magnetic reed switch of high performance is used. This switch is a single pole, single throw, normally open switch and is intended for pilot control. Its rating is for resistive loads only or extremely small inductive loads which must be carefully evaluated in order to avoid damage to the reed switch. It is strongly suggested that the switch be used only with Oil-Rite Relays, Type A-3154, which have been carefully selected to function properly with it and will give long, trouble-free service.

The magnetic reed switch is potted into an auxiliary tube with silicone rubber for protection against shock and moisture. This reed switch assembly is screwed into the lower end of the liquid control switch and can be removed without draining the float chamber. A conduit fitting with 1/2" straight pipe thread is provided at the bottom of the unit as an outlet for the switch leads. A suitable box can readily be attached.

The unique design of the liquid level switches reflects many years experience in adapting lubricating equipment into areas that save energy, improve production, and minimize maintenance.
More from Mining, Oil Drilling, Refining Products & Equipment