Hotset America Utilizes Advanced Control Products for Plastic Injection Machine Cabinet Builds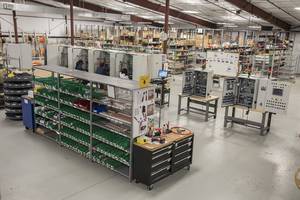 Units produced in quantity to supply machine builder for immediate assembly
Hotset America Corporation (Swainsboro, Georgia) is a subsidiary of Hotset GmbH located in Lüdenscheid, Germany, offering a full line of cartridge, coil and flexible tubular heaters plus temperature sensor products for the plastics and machine industries.
In addition, the company builds control cabinets for a global leader of injection molding machines. Hotset has standardized on the Siemens line of power distribution and motion control products, including drives, breakers, power supplies and other control hardware for its cabinet builds.
As hotset President David Cieslica explains, "We've now built between 500 and 600 control cabinets for our customers, with practically no issues, due to a combination of factors. Our supplier Siemens does an excellent job, helping us with application engineering assistance, product support and, a real key for us, hands-on training for their products and software from their Atlanta offices, so we can maintain a consistent flow of finished units to our customers."
The hotset competitive advantage, according to Cieslica, is their ability to deliver high quality control cabinets in a short assembly time at a competitive price and be made in America. The company currently builds control cabinets for injection molding presses, and other electrically-powered machinery, as well as turnkey solutions related to thermal processing. Hotset is entirely dedicated to the OEM, selling customized designs in control cabinets, alongside their full line of thermal products. The hotset mantra reads "Controlled Energy Flow" and the company subscribes to a build-where-used philosophy, making the Georgia location far more than a distribution outlet, as Cieslica relates. "We have over 50 employees here in Swainsboro, having grown from 14, just a few years ago. The hotset team comprises design and mechanical engineers, thermal specialists, quality personnel and a crew of installation technicians I'd put up against anyone in the industry." He further notes all the control cabinets are fully run-tested and consistently shipped on time to the hotset OEM customers, a critical factor in today's just-in-time business environment.
Over many decades, the corporate brand hotset has primarily stood for hot runner technology, and for the production of industrial heating elements – predominantly for plastics processing. However, for a long time now, this image has ceased to correspond with reality. Over the past years, hotset has not only expanded geographically, but has also developed beyond the boundaries of plastics technology. And during this, their systems expertise and engineering competencies have been significantly extended.
The new hotset brand is key to ongoing success. "We take the brand concept very seriously. We strive to be a true value-adding supplier to our customers and we see the same attitude from Siemens, as they are constantly offering us suggestions on more efficient implementation of their products into our cabinet designs," says Cieslica. In this context, he further cites the advantage of collaborative engineering with the company's controls supplier. Cieslica notes, "While we utilize almost entirely standard products, implementing them into our CAD formats, we often require assistance in the configuration of the controls inside the cabinet, given our frequent customer challenges for more compact cabinet footprints and machine integration specifics."
Shifting to the reasons hotset moved from its original location in Vermont to the relatively remote, southeast Georgia town of Swainsboro, Cieslica explains, "We were attracted by many factors, starting with the Savannah Port Free Trade Zone, but we quickly discovered something else that strongly influenced our decision and, I suppose, appealed to a personal belief of mine. The Georgia Quick Start program is internationally renowned for its workforce development strategies that provide training for qualified new, expanding and existing businesses. Our company had a great desire to help rectify the unemployment situation locally, so we've brought a number of people into the operation, trained them and watched them grow, often with amazement." He cited the case of one employee, who was previously a delivery driver and, since joining hotset, has become a highly skilled cabinet builder and now is the company's production supervisor. "All it took was somebody giving him an opportunity to demonstrate his talents and it all started with proper training. It's been such a joy to watch him prosper with our company," Cieslica beamed. According to the Georgia Quick Start website, the program has existed for over 40 years and "…provided customized workforce training free-of-charge to qualified businesses in Georgia. Today, the program is one of the state's key assets for supporting new and expanding industries. Quick Start delivers training in classrooms, mobile labs or directly on the plant floor, wherever it works best for a company." David Cieslica would certainly agree it's worked quite well for hotset.
As he further notes about the relationship between hotset and Siemens, "We've entered into a very long-term contract with one customer, so we knew we needed a reliable supplier who could support us growing our cabinet manufacturing business in America," he said. He also mentioned another OEM who currently has a contract with hotset for 105 control cabinets. "Siemens has been here to help us in many ways and we appreciate their commitment to our business."
Global – Constant economic success is not something regarding which you can rest on your laurels. Not only technologies, but also markets are permanently changing and this at a breath-taking speed; in constant transition. Those wishing to be successful, must be quick, through the adaptation of production processes and through process optimization, quality improvement or innovations. Global, how does it work? Simple: Increase energy efficiency; reduce cycle times; reduce production costs; optimize workflow. We at hotset will be delighted to show you what is possible and how it works. We will help to make wishes become reality through sound analysis of your processes and procedures and intelligent changes – so that you can concentrate on your future success. A second constant is the family. We are a family-run company which thinks and plans in generations. We do not take any risks, and are independent and reliable. We place great value on continuity and trust. This is also reflected in our long-term relationships with our suppliers, employees and customers.
Hotset has been selling products in the U.S. since 1985. Founded in 2010 in Vermont, Hotset America today supports the U.S., Canada and Latin America markets. With the 2011 move to Georgia, the company maintained representation of the parent company's full heater product suite, plus it today provides other services such as the control cabinet builds, focusing on the plastics, rubber, packaging, metal forming and diecasting industries, to name a few. David Cieslica has been the president of the company since its inception and brings over 30 years of experience, growing businesses, to the task.
For more information on this story, please contact:
Hotset America
David Cieslica,
President/Managing Director
(912) 289-1844, ext. 301
Siemens Industry, Inc.
Alisa Coffey
(678) 427-8319
Siemens Industry, Inc.
Hollie Davis
(770) 751-4882
Siemens Corporation is a U.S. subsidiary of Siemens AG, a global technology powerhouse that has stood for engineering excellence, innovation, quality, reliability and internationality for more than 165 years. With 343,000 employees in more than 200 countries, Siemens reported worldwide revenue of approximately $98 billion in fiscal 2014. Siemens in the USA reported revenue of $22.2 billion, including $5.2 billion in exports, and employs approximately 46,000 people throughout all 50 states and Puerto Rico.
More from Agricultural & Farming Products