Hotrod® HHP Heating Cartridges come in 1/8 in. diameter.
Press Release Summary: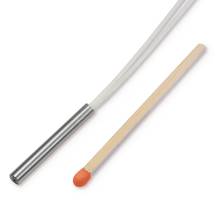 Made of stainless steel, Hotrod® HHP Heating Cartridges comes with two temperature-resistant Ni lines insulated with glass silk. Featuring cross-sections of 0.095 mm², unit is suitable for gas analysis devices and mass spectrometers applications. Offering in various lengths such as 25.4 mm (minimum) and 150 mm (maximum), product when connected to 250V source can generate heating performance of 750°C. Cartridges can be used as strip heating system.
---
Original Press Release:
Hotset: Heating Rods for Medical and Microdosage Technology
Hotset America Corporation has specialized in developing and the production of heating elements and temperature control systems since 1973. In Luedenscheid and Malta, they manufacture high-quality heating elements both as stock range and customer specific designed e.g. for plastics processing, packaging, and die-casting industries.
With a diameter the size of a match head, the new hotrod® HHP 1/8" (3.1mm) must currently be one of the smallest electrical heating cartridges available on the global market. The product is developed for application in compact devices with limited installation space. For special applications, a heating performance of up to 750°C is also possible. Manufacturers in medical technology and microdosage technology have already expressed their interest in this innovation by hotset.
The thermodynamics specialists hotset have revealed how small today's high-tech can get with its new miniature heating cartridge, the hotrod® HHP 1/8". With a diameter of only 1/8" or 3.1 mm, this product takes up no more space than a matchstick. All the more astonishing is its heating performance, which, depending on the application, can reach up to 750°C. This ultra-thin little treasure is therefore a hot recommendation for technical applications in which high temperatures have to be applied and generated in a target-oriented, highly-accurate manner in restricted spaces.
The miniature heating cartridge from Lüdenscheid has earned its first spurs in the field of microdosage. Here it ensures the flowability of adhesives through the temperature control of very narrow application valves. The adhesive marks realised with the aid of the new hotrod® HHP 1/8" are smaller than a nanoliter – approximately 50,000 of these points would fit into one single drop of rain! Elsewhere, too, wherever small quantities of liquid substances have to be controlled in temperature for reasons of process reliability or where solid materials have to be liquefied, the new miniature heating cartridge by hotset is currently being discussed as the optimised new solution. This is the case for example in medical technology, in 3D printing technology and in the lubrication industry.
Sophisticated rods with inner values
Whereas the hotrod® HHP 1/8" with its rod-shaped housing made from stainless steel (1.4541) looks rather conservative from the outside, the inner values will make you catch your breath: two highly temperature-resistance Ni lines insulated with glass silk and featuring cross-sections of only 0.095 mm² flow into a heating conductor made from the material NiCr 8020, which, when connected to up to 250V, develops a heating performance of max. 750°C. Amongst other things, these values make it clear that the new miniature heating cartridges are also suitable for application in gas analysis devices and mass spectrometers as well as for temperature control tasks in packaging technology and the manufacture of semiconductors.
Components remain thin, whatever the length
In order to give device manufacturers and their designers as much freedom as possible during the integration of the hotrod® HHP 1/8", the manufacturer hotset offers the heating cartridges in various lengths. The minimum available length is 25.4 mm (1 inch) and the maximum length is 150 mm (5.91 inches). With the longer designs, this cartridge can also be used as a strip heating system – for example for the temperature control of wide webs or sections. Here it must always be taken into consideration that the two unheated end zones of the hotrod® HHP 1/8" must each extend over 6 to 8 mm.
With the new miniature heating cartridge, hotset is extending its wide-ranging selection of hotrod products by a further, innovative temperature control solution. The company is thus responding to the increasing demand from many device manufacturers and system manufacturers for a high-performance heating cartridge with extremely thin dimensions. Optionally, hotset can also equip users with the new hotrod® HHP 1/8" with an appropriate performance distribution.
For more information contact Eric Crawford, Sales Technician, at 912-289-1844 ext 520 or via email at ECrawford@hotset.com on the internet at https://www.hotset.com/us/home
About Hotset America Corporation
Manufacturer of heaters. Types of heaters include cartridge, coil, (flexible) tubular & sealed heaters. Heated machine nozzles, nozzle & silicon heating elements, temperature controllers and thermocouples - RTDs & accessories are also available. Heaters & heating elements are suitable for die casting, hot runner, extrusion & junction technology, packaging, rubber & silicon processing & welding mirror manufacturing industries. Other services include engineering and development service for heating systems.
Contact:
Eric Crawford 
Sales Technician 
Hotset America Corporation
713 Kite Rd.
Hwy. 57 W
Swainsboro, GA, 30401
Phone: 912-289-1844
Url: http://www.hotset.com/us/home/
Email: ECrawford@hotset.com
Contact This Company Download Spec Sheet
More from Test & Measurement